Using Range: 1X 10-7PA-1X 1.2X10 5PA
Cycles Until First Service: 200000 Times
Transport Package: Carton
Origin: China
Leak Rate: 1.3X 10-7 PA L/S
Trademark: cbvac
Specification: Stainless steel/ Aluminum
HS Code: 8481804090
                               Poppet Valve -- KF/ISO Flange Vacuum valve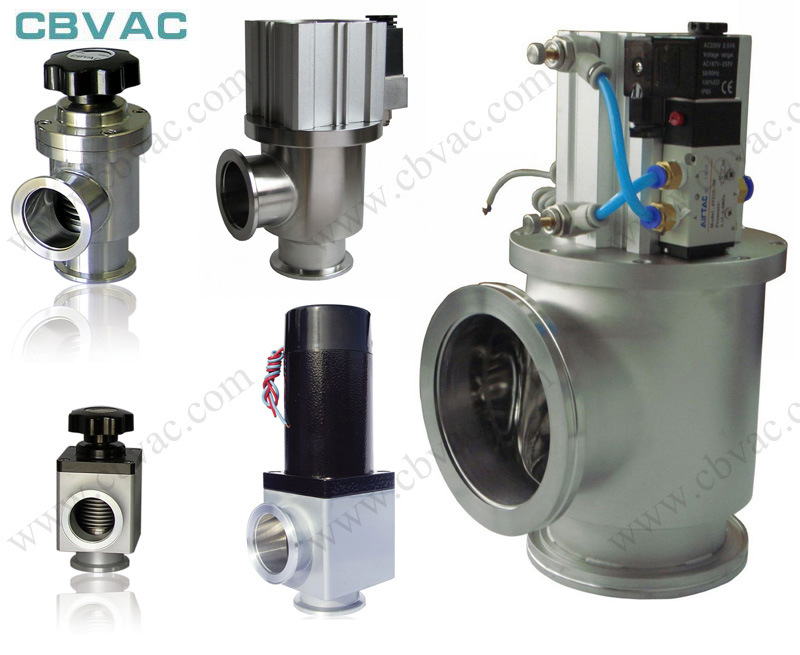 Brief Introduction
This series valves are applicable to the vacuum line's start and stop of ultra-high vacuum system. They are two different vacuum block valves; these are manual ones and pneumatic ones. They have many advantages, such as stability, durability, great sealing, and long service life and so on, so they are one of initial optional valves in ultra-high vacuum equipment. Manual valves take manual rotating handle as motivity, and helical transmission to make valves start and stop. The direction of start and stop takes marks on the handles as the standard. Pneumatic valves take compressed air as motivity to make valves start and stop. Valve plates will close automatically depending on spring force when losing air source. Applicable medium can be pure air and non-corrosive gas.                               
Features
Design in a standard and moduling way. Easy to change and maintain.
Easy to clean up.
Adopt stainless steel bellows and viton O-ring, no lube.
The inner of valves'Â body is welded by stainless steel and the leak rate is low.
Order Information
The order numbers of each product are as follows. Customers can search the numbers according to the operation mode of valves and DN.

Order Example: Â 2089

     High Vacuum Manual Block Straight Valves, DN=16mm, CF flange
 DN
(mm)
Order No.
Weight/kg
Manual
Pneumatic
Manual
Pneumatic
16
2089
2297
0.50
0.70
25
2090
2298
1.80
1.70
40
2091
2299
2.20
2.10
50
2092
2300
2.70
3.55
Major Capacity Targets:
Application scope:1×10-6pa~1.2×105Pa
Differential pressure before open valve plates:≤1.2×105a any direction
Leak rate of valves' body and base: <1.3×10-7Pa·L·s-1
Cycling numbers before initial repair:200,000times
Baking Temperate of valve bodies:Open≤200ºC;Close≤150ºC
Position of installation: Any direction
Power supply:AC 220VÂ 50Hz,6W or DC 24V,3W()(Cycles until first service)
Compressed air(only supply to pneumatic valves):0.4~0.7MPa
)Speed of closing and opening (only supply to pneumatic valves):≤1s
Indications of valves'Â position
-manual valves: with indication of start and stop's positions

- pneumatic valves: with indication of start and stop's positions(magnet switch)
Valves'Â weight: Referring to the above table.
External Dimensions
Manual
            
Model
DN
Connecting
flange
Manual
A
B
C
D
E
F
G
CD-J16B
16
CF16
106
16
40
48
64
40
28
CD-J25B
25
CF25
137
25
55
69
89.5
50
40
CD-J40B
40
CF35
153
35
63
69
97.5
63
40
CD-J50B
50
CF50
192
50
80
92
126
63
40
  Pneumatic 
 
Model
DN
Connecting
flange
Pneumatic
A
B
C
D
E
F
G
CDQ-J16B
16
CF16
125
16
40
48
85
113
28
CDQ-J25B
25
CF25
149
25
55
69
111
140
40
CDQ-J40B
40
CF35
167
35
63
69
118
150
40
CDQ-J50B
50
CF50
207
50
80
92
144
210
50
 

 

CF flange are subject to GB/T 6071-2003

Optional Parts:  Magnet switch.We can OEM and ODM as the drawing and your requirement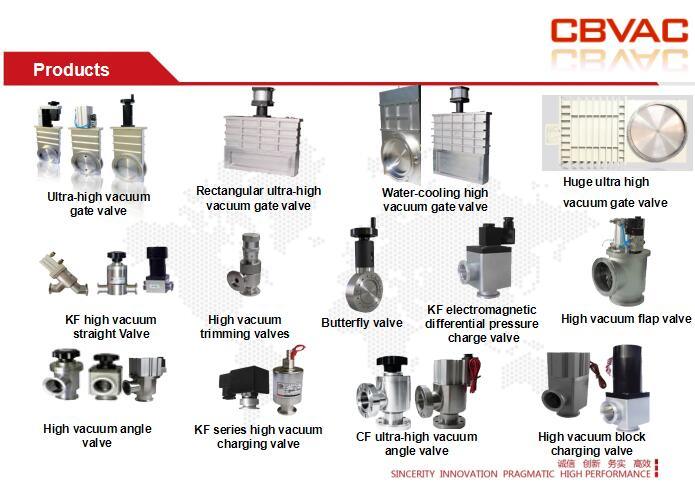 Packaging & Delivery

Packaging Details:Â Â  Â Inner: plastic bag. Outer: carton or wooden case or according to customers' need.

Delivery Detail:Â Â  Â Shipped in 3 days after payment

Our company introduction 

 

Chuanbei Vacuum Technology (Beijing) Co., Ltd.(Registered Brand CBVAC), founded in 2002, is national new-high technology enterprise, the Chinese Vacuum Association key enterprise specialized in vacuum products development, design, production, sales and service. We took the major projects task from MOST, the intelligent digital workshop from NDRC, technology upgrading from MIIT and so on.

 CBVAC posses various series of vacuum valves, vacuum pumps, vacuum bellows, vacuum flange connectors and customized chamber processing, vacuum system integration and other vacuum products. The industry belongs to high-end equipment manufacturing industry. The vacuum products and technologies are widely applied in new energy, new materials, aerospace, semiconductor, IC equipment and other fields, also we design and manufacture products in the vacuum technology application fields from universities and scientific research institutions.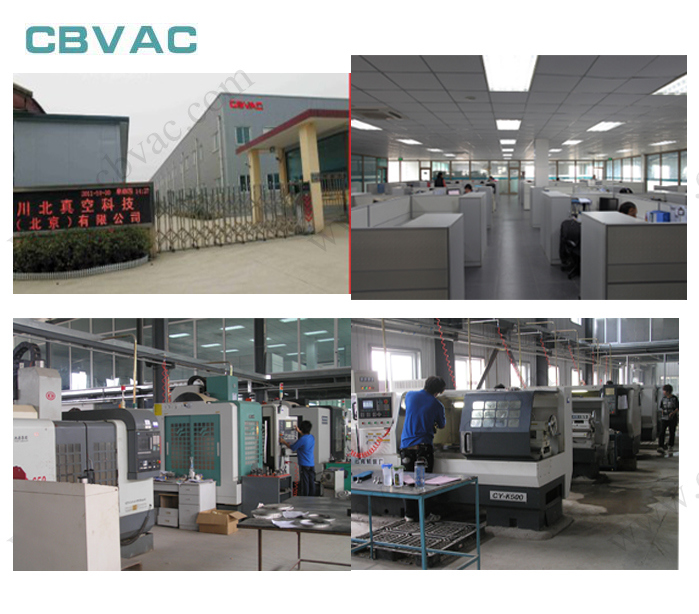 Our Product Range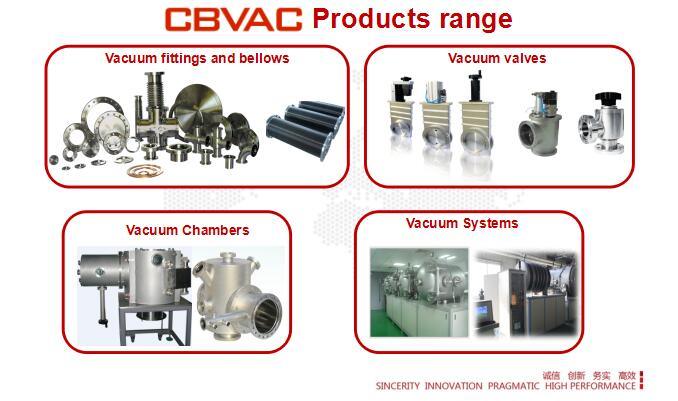 Shantui

Construction Machinery

Co., Ltd., founded in 1980, was a national category I key enterprise integrating research & development, production and sales of main engine products and key components of earth moving machinery, pavement construction & compaction machinery, building machinery, hoisting machinery and other construction machinery series products; and it is also a state-owned joint-stock listed company. It is one of the top 50 manufacturers of construction machinery in the world, and one of China`s top 500 manufacturers. On January 1, 1997, [Shantui" listed on the Shenzhen Stock Exchange (stock code: 000680). In June 2009, Shandong Heavy Industry Group was established, and Shantui became one of its Subsidiaries. As the backbone of construction machinery industry in China, Shantui always ranks as No.1 in the industry.

Concrete Machinery,Automatic Brick Machine,Concrete Block Machine,Clay Brick Making Machine

Shandong Shantui Construction Machinery Import & Export Co.,Ltd. , https://www.bulldozers.pl