Model NO.: CT-20

Trademark: Realtech

Origin: China
Product Description
Container station CT-20

1 x 20 Feet ISO container case

1 x Storage tank with doubel wall 6mm 15000 Lite

1 x Loading Pump VB-50, 500L/M, 5KW, 380V

1 x Fuel dispenser with 2 product RT-C224, Petrol 45L/M, Diesel 75L/M, ATEX approved

With fire extinguisher, tool box, first aid box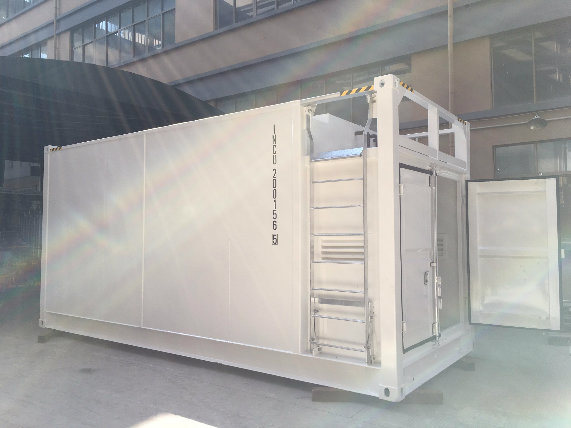 Specification of Container station:

 
S/N
Size
Tank Capacity
Tank Dimension(mm)
Layer
Chamber/oil type
Thickness
1·
20 FT
10000L~
26000L
φ2200*5500
single wall
1 Chamber
5mm
2 Chambers
5mm
φ2270*5570
double wall
1 Chamber
6mm+5mm
2 Chambers
6mm+5mm
2·
40 FT
30000L~
68000L
φ2200*10000
single wall
1 Chamber
5mm
2 Chambers
5mm
φ2270*10000
double wall
1 Chamber
6mm+5mm
2 Chambers
6mm+5mm


Introduction:

Mobile Container station is a complete gas station built in an ISO container for selling the fuel to vehicles and machines, it is widely used in remote area , bus stations, seaports, airports, large construction sites, highways, parking place, private internal station, war-torn area, mining area or even downtown for a temporary use , it is a really good solution comparing to traditional station, because it is convenient, low-cost, non-construction needed, self-supported, customizable, movable and flexible. 

Depends on different usage, bluesky can offer different solutions accordingly, normally include 20 Feet ISO container station, 40 Feet ISO container station or other NON-Standard container station
 
Use in mining area

Specification of Container station:

S/N    Size    Tank Capacity    Tank Dimension(mm)    Layer    Chamber/oil type    Thickness
1•    20 FT    10000L~
26000L    φ2200*5500    single wall    1 Chamber    5mm
                    2 Chambers    5mm
            φ2270*5570    double wall    1 Chamber    6mm+5mm
                    2 Chambers    6mm+5mm
2•    40 FT    30000L~
68000L    φ2200*10000    single wall    1 Chamber    5mm
                    2 Chambers    5mm
            φ2270*10000    double wall    1 Chamber    6mm+5mm
                    2 Chambers    6mm+5mm

Main parts including:
    ISO Container with Ventilation grids, removable Ladder, roofs, Access Cover to tank's manhole, Retention Tray and non-slip grating under dispenser area.
Size available with 20 Feet or 40 Feet container, with rolling door or standard container door, open available on the side or on the front and back , also special design is available
-Steel piping welded and tested.
-Suction Line 1.1/2" equipped with a mesh filter, anti siphon valve and cut valve.
-Fuel Loading line 4", inlet near dispenser area, with connection, down pipe and overfill prevention valve.
-Venting: 2" vent pipe with atmospheric vent valve and filter.
-Three layer anti-corrosive Painting , Customer Logo available
 
    Fuel Tank
Both single and double layer is available , both single and double product is available, fully tested and certified according BS EN 12285-2 Class A, with leak detector.
Capacity from 10000 Liter to 68000 Liter
 
    Fuel dispenser
Suction / Submersible available
Single products / Multi products available
Standard flow / Heavy duty flow available
All the models of fuel dispenser is available, customer can choose Commercial dispenser, Economic dispenser, mini dispenser or Mechanical dispenser. 
          
Commercial Dispenser  Economic       Mini Dispenser    Mechanical Dispenser
RT-CY122 Â  Â  Â  Â  Â  Â  RT-P111 Â  Â  Â  Â RT-M111 Â  Â  Â  Â  TYB-60

    EX Proof Transfer Pump
For discharging and loading the products from Trailer to Tank or from Tank to trailer 
Power supply: 380V / 220V / 110V is available, because different area may need different power supply
Size: 1 inch / 2 inch / 3 inch available 
                   
Transfer Pump DYB-80 Â  Â  Â  Â  Â  Â  Â  Â  Â  Â  Â  Â  Â  Â Vane Pump YB Series
   220/110V, 80L/M                                   380V 100-1500L

    EX controlling box
 
    Liquid Level Gauge with monitor
         

    Automation system LTMS with APP
LTMS : Local management system to monitor the fuel dispenser and fuel Tank
Function: Change all parameter on fuel dispenser, employee management, shift management, inventory management, Anti-Fraud ,All reports available
 Hardware request for LTMS management system: 
+ Computer installed with English Version XP / Window 7Â 
+ Communication cable, 2 Cable for RS485 communication
+ Cable Internet or GPRs

Mobile APP management system: Wow Station

-Station Owner:Â 
Can monitor all the station, all the dispenser, all the nozzle, all the tank via cell phone, to setup the parameter, to see the real-time transaction, to see the record, to see the status of device, to see the error / Alarm information, to see all the reports

-Maintenance team:Â 
Can see all the error code and location of the device, before go to the station, maintenance team can know what is wrong is on the device

- Driver:Â 
Can deposit the money in the APP, can get the discount / promotion information from the station to choose a better price, also can find a station easily in the map

Wow Station is offered free to all the container station order, available on google Player, store and Bluesky website: www.blueskynewenergy.com
 
    EX-proof Lamp for lighting
 
    Fire extinguisher
Fire extinguisher have manual one and automatic type, automatic type can installed on the dispensing area, in case of fire, it will open and put out the fire
 
Auto type                                      Manual Type

    Other feature:
--Over Fill Protection
--Over Flow Protection
--Anti-static

    Option:
--Generator, Â supplying the power
-- Solar Panel, supplying the power
-- Oil and Gas recovery system for gasoline
-- Integrated Office with AC, Table etc
-- Metering System, to measure the quantity during loading
-- Self-Service with IC card or Bank card or RFID card
-- Advertising LOGO light box

    Standard Specifications for order
-- 1x Economic fuel dispenser 50 liters/min
-- 1x fuel transfer pump, approximately 300Liter/min. Capable unloading and supply.
-- 2x Fire extinguisher
-- Single wall , single product plated carbon steel tank
-- 3" Fuel fill point (Cam Lock) / Overfill protection valve.
-- Tank level and temperature gage indicator.
-- Integrated ladder and sunshield for top of container access.
-- 1xlight in the dispensing room
-- 1x 20FT container or 40FT container
-- 1 x Automation system with LTMS and APP
 
 
 
    Safety:
-- Air breath valve / emergency relief valve
-- High level and Low Level alarm.
-- Emergency shut off system point and leak detection.
-- Sealed area around the Valve to give Product Binding in All Areas.
-- System grounding point to hearth and resistance point and capability for testing
 
    Frequent Asked Questions from Customers
Q1. Are these mobile filling stations bullet proof and fire proof?
Bluesky: Our product is fire proof but can't bullet proof, when bullet shoot the station, the safety system can prevent explosion, no fire would be caused. 
Q2. Can these stations come with 2 product in one container (petrol & Gas-diesel). If so how much can if compartment hold.
Bluesky: Yes, we can set 2 dispensers with 2 compartments as your request.

Q3. Can it come with a mini office and generator?
Bluesky: Some of them can come with a mini office, it's according to the capacity and size.It comes with a 220V/380V generator if your need.

Q4. Can these stations be branded with our company colors
Bluesky: Yes, just please tell me your idea, we will produce according to it

Q5. Can the outside be of fiber material not metal?
Bluesky: No, since the container is for sea shipping, metal structure is much suitable. If you have some design for the look, please let me know, we will try to follow your design, but the container material can't be changed. 

The air-to-water cooler is mainly used in various equipments that use a mixture of water, a mixture of refrigerant and water as a heat medium, and the purpose of cooling the high-temperature water passing through the heat exchanger is achieved by air-cooling.

Advantages: Strong corrosion resistance, compact structure, small footprint, and high degree of customization.various air-cooled drive modes, DC motor, AC motor, hydraulic motor, air motor, special explosion-proof motor, etc., better to choose the appropriate drive mode according to industrial environmental factors, without the help of external cooling medium, lower The hardware requirements can be used to cool the oil and ultimately ensure the benign operation of the equipment.



Applications: Construction machinery engine, air compressor, industrial spraying equipment, new energy equipment, solar equipment, power equipment, marine equipment, wind power equipment, sewage treatment system, etc.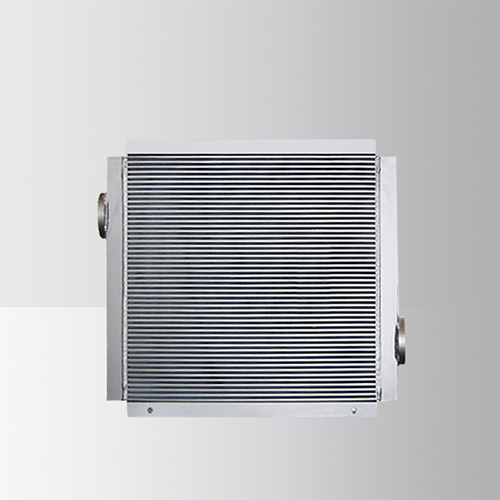 Air-Water Cooler,Portable Air Cooler,Water Cooling System,Mini Air Cooler

Xinxiang Zhenhua Radiator Co., Ltd. , https://www.thermictransfer.nl