Model NO.: KPX-50T

Weight(T): 2.8

Motor Power(Kw): 1.6

Colour: Yellow / Red / Blue

Certification: CE,ISO9000,SGS

Trademark: BEFANBY

Transport Package: Generally According to Customers′ Demands.

Specification: GB/T6127-92

Origin: Xinxiang, Henan, China

HS Code: 8428909090

Brife Introduction--Aluminium Coil Use Electric Handling Cart for Heavy Industry on Rails

Aluminium Coil Use Electric Handling Cart for Heavy Industry on Rails is powered by the battery,the DC motor and gear
reducer are controlled by DC control system to drive wheels and make the transport carriage start, stop, go forward
and backward, speed up and slow down and so on.This rail transfer car battery handle can be used both on the "s"and
arc-shaped railways.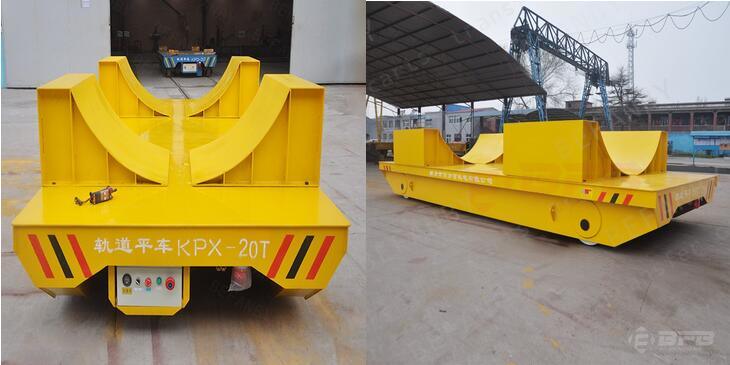 Characters Show--Aluminium Coil Use Electric Handling Cart for Heavy Industry on Rails
All of our Aluminium Coil Use Electric Handling Cart for Heavy Industry on Rails are equipped with state of the art
safety features including safety lights, horns, bumpers, dead man controls and mushroom type emergency stop
buttons.
It can be used to transfer anything you imagine and working situations, such as steel coil, billets, bloom, ladle &
scrap, locomotive, vehicle, workpieces to painting shops or blasting room, etc;
We designed and added the special device to it can apply in the high temperature and explosion working
environment.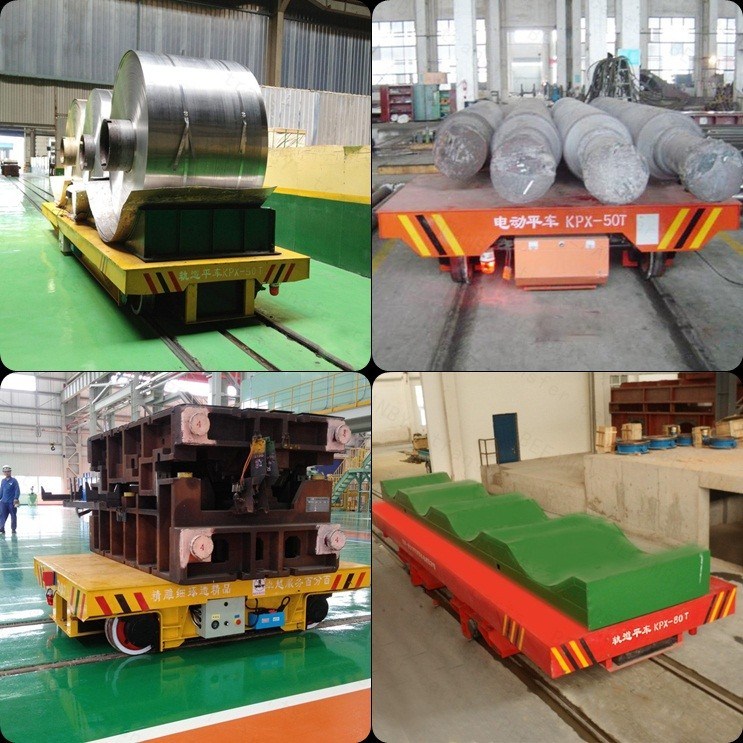 Working principle

--

Aluminium Coil Use Electric Handling Cart for Heavy Industry on Rails

This kind of Aluminium Coil Use Electric Handling Cart for Heavy Industry on Rails is powered by storage battery,which
is lead-acid battery pack. The battery is installed in the cart, and supply DC electricity to the control system. It is consist
of battery, motor, reducer, cart frame, electric appliance, etc.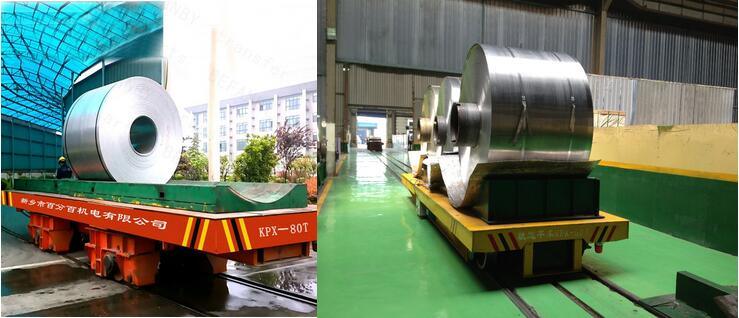 Safe and environment friendly
Big starting power
Small impact to the gear reducer
No restriction of the running distance
Can running on s-shape rail, arc-shape rails
Has no limit on working distance
Anti-explosion,Anti-high temperature
Stable start, big starting power, long lifetime. 
Model

KPX-2T
KPX-10T
KPX-20T
KPX-30T
KPX-50T
KPX-63T
KPX-150T
Rated load (T)
2
10
20
30
50
63
150
Table size
length(L)
2000
3600
4000
4500
5500
5600
10000
Width(W)
1500
2000=
2200
2200
2500
2500
3000
Height(H)
450
500
550
600
650
700
1200
Wheel Base (mm)
1200
2600
2800
3200
4200
4300
7000
Rail Inner Gauge (mm)
1200
1435
1435
1435
1435
1435
2000
Wheel Diameter(mm)
Φ270
Φ300
Φ350
Φ400
Φ500
Φ600
Φ600
Wheel Quantity
4
4
4
4
4
4
8
Ground Clearance (mm)
50
50
50
50
50
75
75
Running speed (min)
0-25
0-25
0-20
0-20
0-20
0-20
0-18
Motor Power (Kw)
1
1.6
2.2
3.5
5
6.3
15
Battery Capacity(Ah)
180
160
180
250
330
400
600
Battery Voltage(V)
24
48
48
48
48
48
72
Running Time When Full Load
4.32
4.8
4
3.5
3.3
3
2.9
Running Distance for one Charge(Km)
6.5
7.2
4.8
4.2
4
3.6
3.2
Max Wheel Load (KN)
14.4
42.6
77.7
110.4
174
221.4
265.2
Reference Weight (t)
2.8
4.2
5.9
6.8
8
10.8
26.8
Recommended Rail Model
P15
P18
P24
P38
P43
P50
QU100
About Us

Xinxiang Hundred Percent Electrical and Mechanical Co., Ltd is a collection of research, design, manufacture,
installation and after-sales service of electric handling bogie ,transfer carts as one of the professional manufacturing
company, which has a modernized management team and excellent staff.And our prodcuts gets CE, SASO,SGS,ISO
certificate and other 8 national patent, and our products have been exported to more than 50 countries and regions.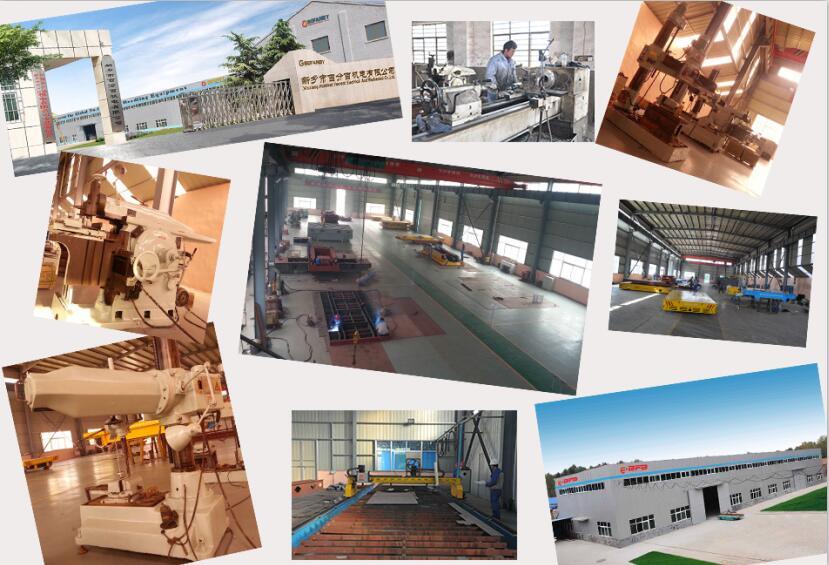 Our Certificate show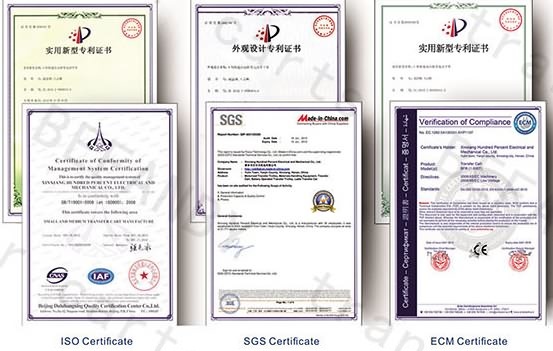 Our production application show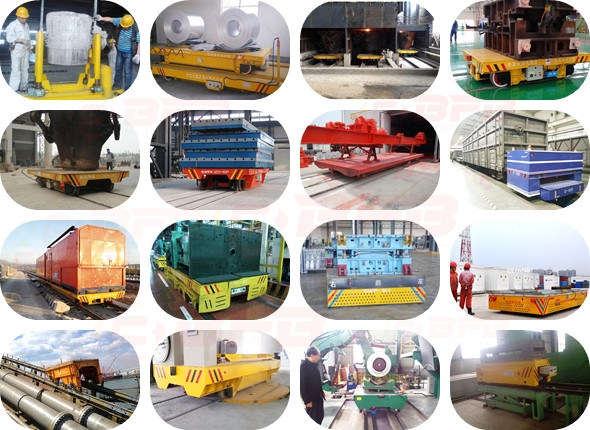 Our after-serive

1>. Our commitment: The load bearing safety factor of the trolley is no less than 120%.

2>.Freely design the auxiliary device or foundation drawing, and offer the technical service and drawing material

3>. 16 hours engineering service and 24 hours internet service for our customers

4>. During the warranty period, if our products can't work normally, we can support you repair technology or replac
 relevant parts for you within 24 hours.

5>. Solving the quality problem within 24 hours, serious attitude from beginning to end. Value the reputation and
Preserve the image of our company.

Our producing scope
Product Name
Model No.
Power Supply Mode
Load Capacity
Other Items
Usage
Rail Transfer Cart
KPD
Conductor Rail
Load range 1-300ton, can be customized per client demand
Running distance
Ordinary goods,such as steel plate, workpiece,equipment etc special goods,such as coil. column,ladle etc
Battery Powered Transfer Car
KPX
Battery
Using frequency
Motorized Transfer Trolley
KPJ
Cable Drum
Running distance
Busbar Powered Handling Cart
KPC
Busbar
Working shop
Towed Rail Trailer
KP
Tractor
1-100t
Working shop
Steerable Towed Car
BWT
Tractor
Load range 1-50t, less than 20t, cement floor is ok. More than 20t,steel floor is demanded.
Working environment
Trackless Handling Machine
BWP
Battery
Working path
How to choose the suitable transfer trolley?

All of our motorised metal transfer trolley all customized as client's requirement, for choose the most suitable transfer

trolley,please kindly providing the following inforamtion:
Transfer or handling what matrial/cargo?
What capacity do you need?
This trasnfer trolley is running on rails or ground(floor)?
Your requirment for table size:length,width and height?
How about the running distance?
How many working hours in per day?