Model NO.: Electromagnetic  Flow  Meter

Measuring Principle: Electrical Principles

Measurement Object: Closed Pipeline

Certification: CE, ISO, SGS

Max Temp: 180c

Max Size: 2000mm

Pressure: 4MPa

Certificate: ISO, Ce, SGS

Trademark: GN

Transport Package: Carton/Polywood Case /Wood Case

Specification: CE/SGS/ISO

Origin: Shanghai China

HS Code: 9026100000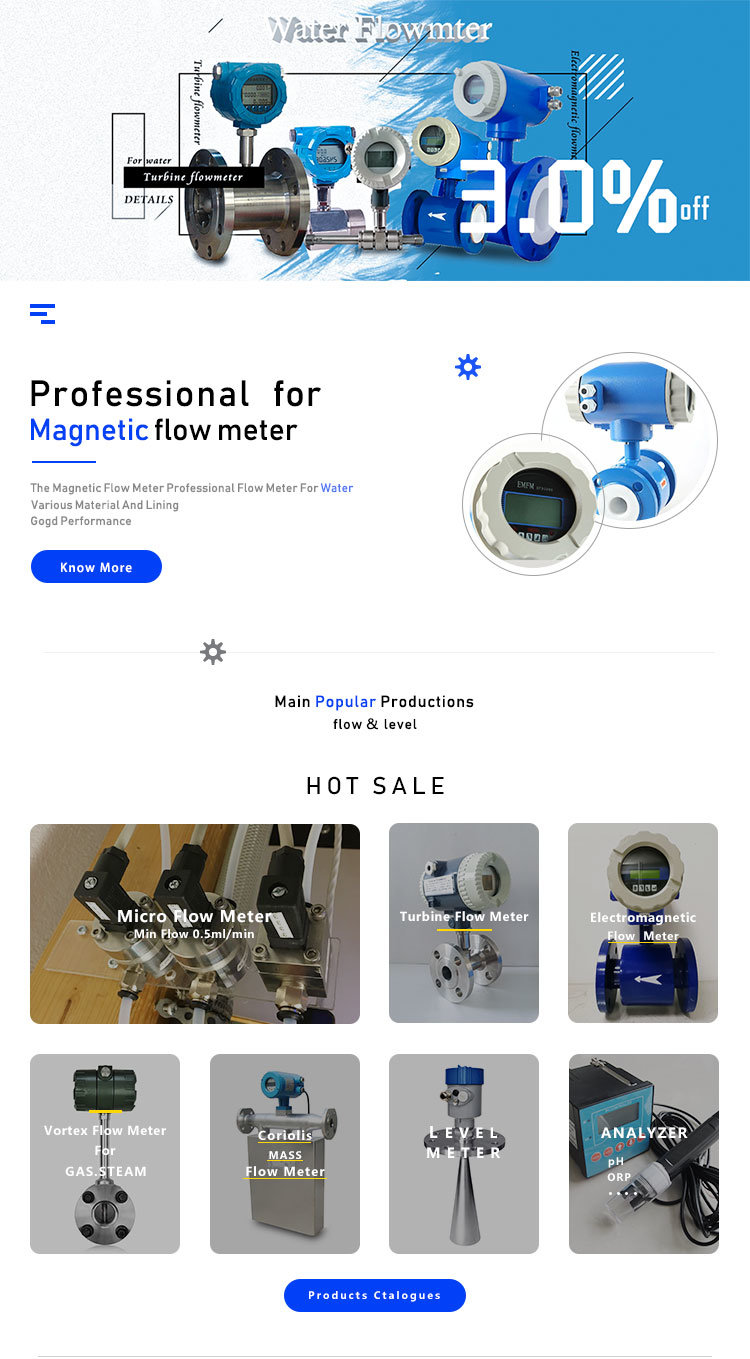 Industrial Conductivity Liquid Acid Flowmeter

This technology of magnetic electromagnetic flowmeter has a number of advantages when it comes to liquid flow measurement. The sensors are generally inserted in line into the pipes' diameter, and are therefore designed such that they do not disturb or restrict the flow of the medium under measurement. As the sensors are not directly immersed in the liquid-there are no moving parts-there are no wear and tear concerns.

The method of magnetic electromagnetic flowmeter measures the volume flow, which means the measurement is insensitive to changes in effects such as fluid density, temperature, pressure, and viscosity. Once the electromagnetic water flow sensor measurement transmitter meters is calibrated with water, it can be used to measure the other types of conductive fluid-with no additional correction. This is a significant advantage that other types of flow meters don't have.

what's the technical parameters of magnetic electromagnetic flowmeter?
| | |
| --- | --- |
| Production Name | Â magnetic electromagnetic flowmeter |
| Â Medium | Â water;wastewater;Mud and varioue kinds of conductivity liquid |
| Â Diameter | Â DN10~DN2000mm |
| Â Accuracy | Â +/-0.5% |
|  Temperature |  <80ºC(rubber); <180ºC(PTFE) |
| Pressure | Â 4.0Mpa(DN10~80);1.6Mpa(DN100~150);1.0Mpa(DN200~1000);0.6Mpa(DN1200~2000) |
| Â Flow speed | Â 0.3~10m/s |
|  Requirement of   pipeline |  Upstream ≥5DN;Downstream≤3DN |
| Â Electrode | Â Stainless steel 316L(standard);Titanium;Tantalum;Hastelloy |
| Â Lining | Â PTFE;Rubber |
| Â Connection | Â Flange;thrad;clamp on |
|  Body material |  Cast steel ;stainless steel  |
| Â Power supply | Â 220V;24V;Battery |
| Â Output | Â Pulse;4~20mA;HART;RS485;MODBUS;GPRS |
| Â Communication | Â HART;RS485;MODBUS |
|  Explosion proof |  Customized  |
| Â Protection | Â IP65 or IP68 |
|  Environment |  Environment:-20~60ºC |
| Â Power | Â <20W |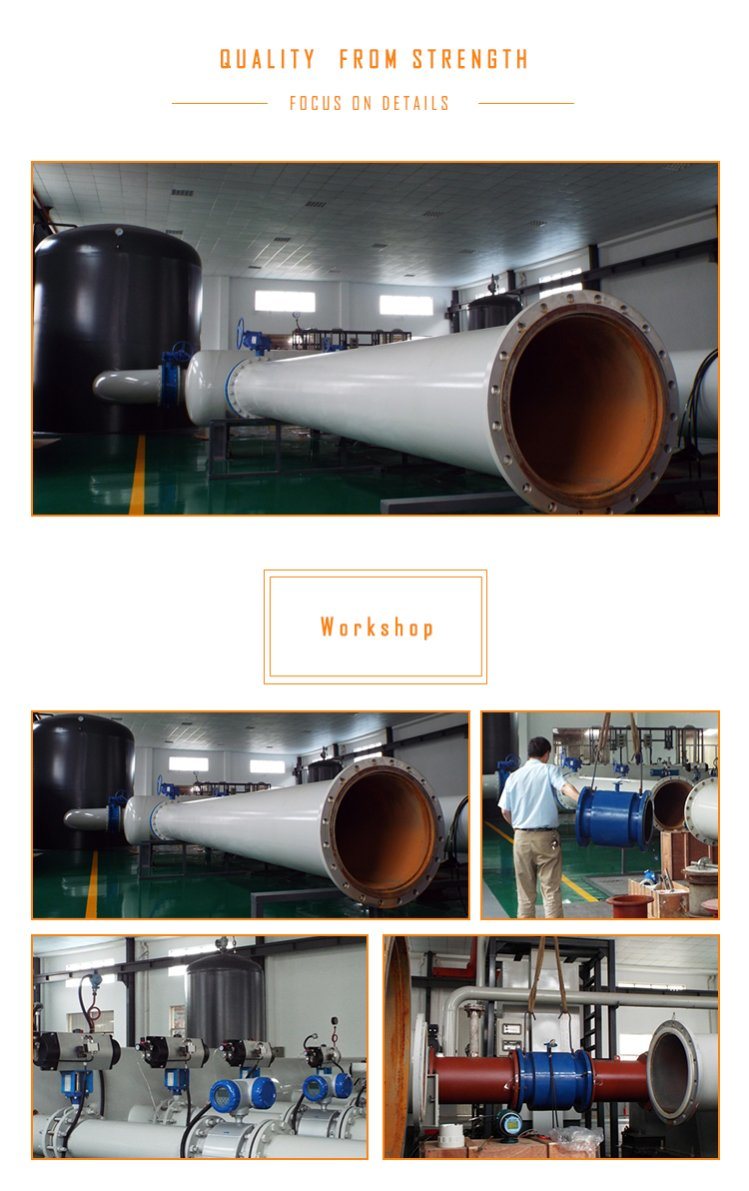 | | |
| --- | --- |
| Â Item | Â The Electrode table |
| Â Material | Â The Medium |
| Â SS316L | Â  For:Living water; wastewater;Corrovise water and Mud,etc; |
| Â Hastelloy B | Â  For:Non-oxidizing acids at concentrations less than 10%;NAOH Concentrations less than 50% |
| Â Hastelloy C | Â  For:Mixed Acid and Oxidizing salts |
| Â Titanium | Â  For: Salt and weak acid ;Not application:hydrochloric acid, nitric acid and other reducing acids |
|  Tantalum |   For:hydrochloric acid(<40%);Sulfuric acid and Other oxidizing acids |
|  Plantinum |   For:Almost all acid-base salt solution But not application for aqua regia, except ammonium salt |
| Tungsten carbide | Â  For:Pulp ;sewage ;slurry |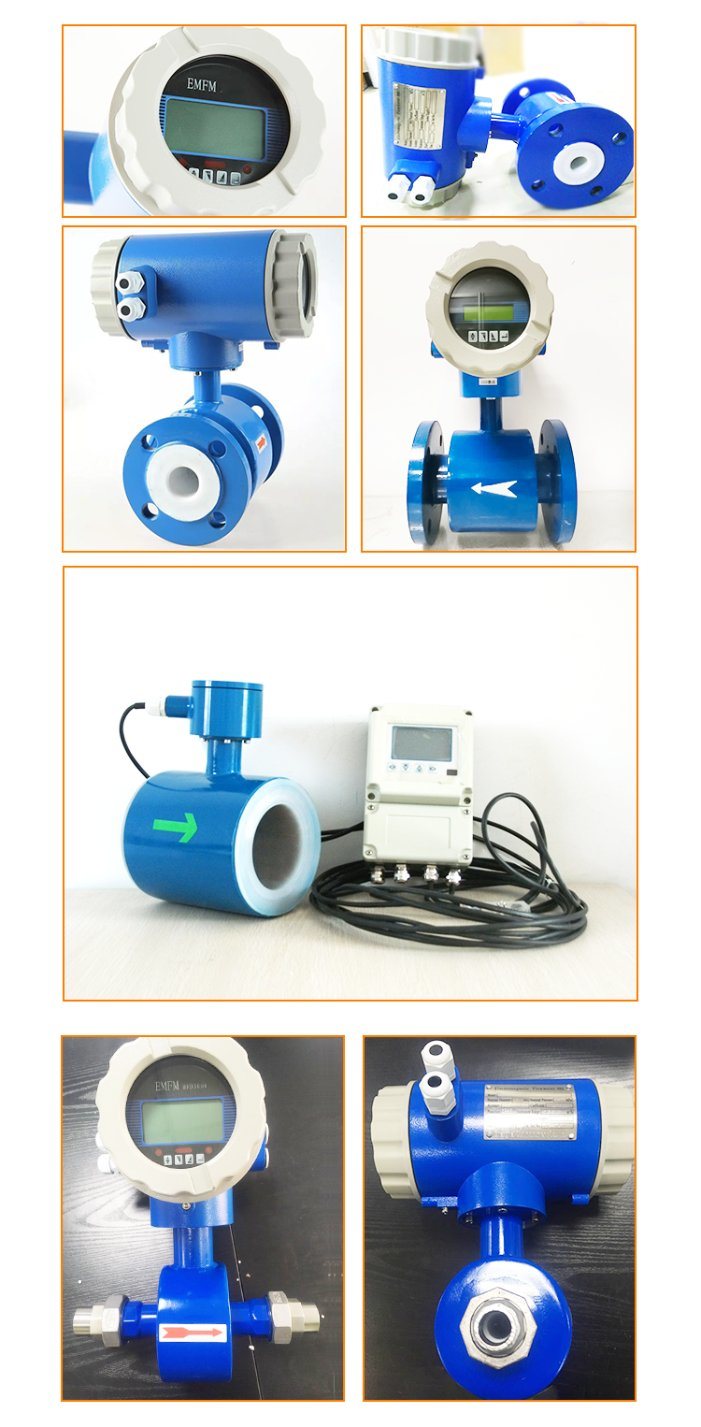 [Installation]

 1.Installation location
Avoid the magnetic objects and equipment with stong electromagnetoc field;
should installa the flow meter at ventilated location;
Avoid the location wherer ambient temperature above 50ºC and relative humidity above 90%;
The water flowmeter should be installaed at somewhere spacious;
The DH1000 series Digital Electromagnetic Water Flow Meter with RS485 Signal should be installaed behind pump and the value should installa at downstream.            
    2.Installa the flow sensor
Must to ensure the pipeline is fulled and without bubbles to keep the high accuracy;
The flow direction shoudl keep with sign on the body of flowmeter;
Ensure the double electrodes keep Horizontal;
If the medium is mixed by liquid and solid,Pls installa it at vertical to extend the working life of lining;
If the environment with shocked pls installa the bracket at both front and behind;
If the medium is pollution liquid,should installa the flow meter at bypass pipe and don't interrupted when you on service;
   3.Requirement of Straight pipe
The straight of pipe at inlet must more than 10×DN,Suggest 15DN;at outlet,the straight pipe at least 5×DN;
If at the upstearm of flowmeter,there are values,elbow,the straight must need 15×DN;
Pls installa the shut-off value at both front and behind of flow meter;Â 
  4.Installation advance
The installation location for you reference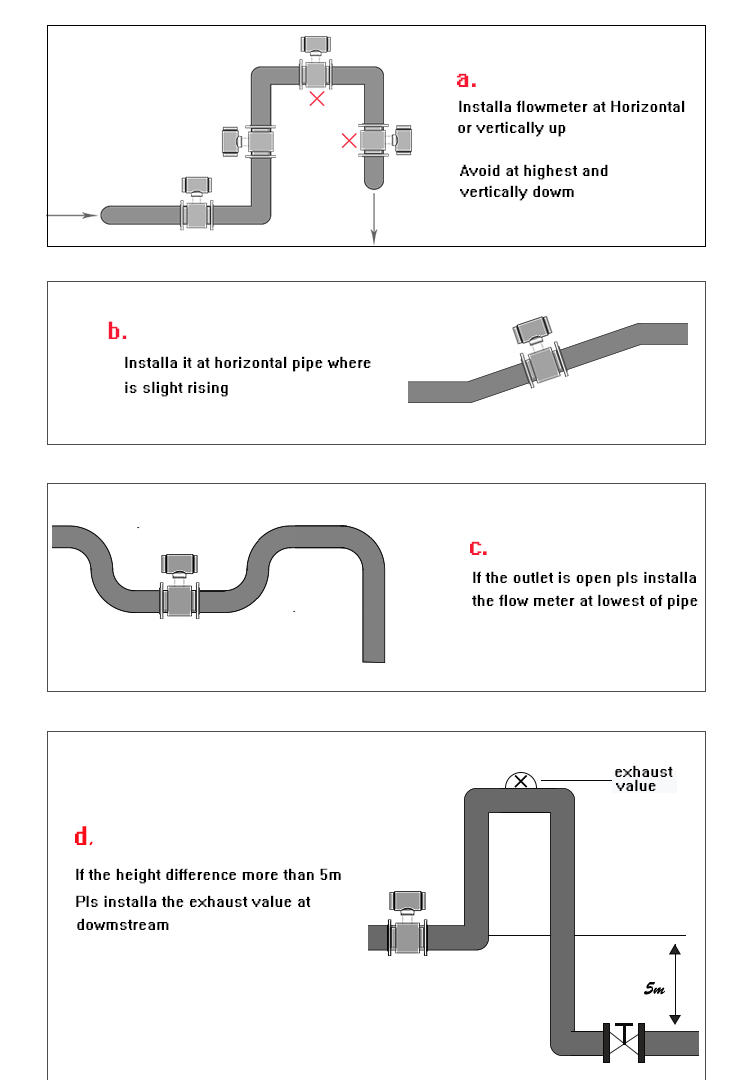 [Company Information]
Our Company is Top 10 Manufacture on Alibaba;
We have about 30 years of experience in Manufacture;
Our products have been exported to more 100 coutries and area;
ISO,SGS,CE and more ceterficates for you reference;
Patent technology and more than 3 years working life