Model NO.: SAEJ30 R7

Cylinder: Single Cylinder

Fuel Saver Type: Solid-fuel Catalyst and Air Aeration

Carburettor Type: Horizontal Draught

Product Name: Oil Hose

W.P: 300 Psi

B.P: 1200 Psi

Temperature Range: -40 to 125 Degree

Color: Black

Material: Rubber

Delivery Time: 15 Day After Payment

Size Range: 3/4 Inch

Surface: Corrugated

MOQ: 1000 Meters

Trademark: YUTE

Transport Package: Carton, Pallet

Specification: SAE J30 R7

Origin: Ningbo City Zhejiang

HS Code: 4009420000

Model NO.: SAEJ30 R7

Cylinder: Single Cylinder

Fuel Saver Type: Solid-fuel Catalyst and Air Aeration

Carburettor Type: Horizontal Draught

Product Name: Oil Hose

W.P: 300 Psi

B.P: 1200 Psi

Temperature Range: -40 to 125 Degree

Color: Black

Material: Rubber

Delivery Time: 15 Day After Payment

Size Range: 3/4 Inch

Surface: Corrugated

MOQ: 1000 Meters

Trademark: YUTE

Transport Package: Carton, Pallet

Specification: SAE J30 R7

Origin: Ningbo City Zhejiang

HS Code: 4009420000

                YUTE CCC Approved SAE j30r7 Oil Hose for Renault Parts

Applications:

Apply to transporting gasoline,diesel,engine oil and lubricating oil etc.It is widely used in agriculture machinery and engineering machinery .

Construction:

Tube:oil-resistant, low permeation of special rubber formula.

Reinforcement:High tensile braided fiber;

Cover:weather-,aging-resistant with high performance synthetic rubber.

Working temperature:-40~+125ºC, -40 ºF~ +275 ºF

Hose size and technical parameters:
NO
I.D
O.D
W.P
B.P
inch
mm
Tolerance(mm)
  inch
mm
Tolerance(mm)
Bar
PSI
Bar
PSI
1
1/8
3.2
±0.3
23/64
9
±0.3
20
300
80
1200
2
5/32
4
±0.3
25/64
10
±0.3
20
300
80
1200
3
3/16
4.8
±0.3
7/16
11
±0.3
20
300
80
1200
4
1/4
6.3
±0.3
1/2
12.7
±0.4
20
300
80
1200
5
5/16
7.9
±0.4
35/64
14
±0.5
20
300
80
1200
6
3/8
9.5
±0.4
5/8
16
±0.5
20
300
80
1200
7
15/32
12
±0.4
3/4
19
±0.5
20
300
80
1200
8
1/2
12.7
±0.5
25/32
20
±0.6
20
300
80
1200
9
5/8
16
±0.5
61/64
24
±0.6
10
150
40
600
10
3/4
19
±0.6
1-9/64
28.8
±0.8
10
150
40
600
11
1
25.4
±0.8
1-3/8
35
±1
10
150
40
600
Packing:

      1.Every 20/25/50/100 meters a roll.

      2.According to customer requirements.

Logistics:

Shipping and Air transport

Certificate:

     ISO/TS 16949:2009.

     SGS

     CE

     RoHS.

Trade Shows:

        Automechanika Shanghai

         AAPEX Show

         Automechanika  Frankfurt

        Kentucky Exposition Center

 

Our Services

1.   OEM Manufacturing 

2. Accept sample order 

3. We will reply you for your inquiry in 24 hours.

4. After sending, we will track the products for you once every two days, until you get the products. When you got the goods, test them, and  give me a feedback.If you have any questions about the problem, contact with us, we will offer the solve way for you.

More information visit :

www.hengtegu.com

http://hengtegu.en.alibaba.com 

http://auto-rubber-hose.com

Contact Us:

        Tel:  +86-0574-62056986

          +86-0574-62056985

                  YUTE CCC Approved SAE j30r7 Oil Hose for Renault Parts

Applications:

Apply to transporting gasoline,diesel,engine oil and lubricating oil etc.It is widely used in agriculture machinery and engineering machinery .

Construction:

Tube:oil-resistant, low permeation of special rubber formula.

Reinforcement:High tensile braided fiber;

Cover:weather-,aging-resistant with high performance synthetic rubber.

Working temperature:-40~+125ºC, -40 ºF~ +275 ºF

Hose size and technical parameters:
NO
I.D
O.D
W.P
B.P
inch
mm
Tolerance(mm)
  inch
mm
Tolerance(mm)
Bar
PSI
Bar
PSI
1
1/8
3.2
±0.3
23/64
9
±0.3
20
300
80
1200
2
5/32
4
±0.3
25/64
10
±0.3
20
300
80
1200
3
3/16
4.8
±0.3
7/16
11
±0.3
20
300
80
1200
4
1/4
6.3
±0.3
1/2
12.7
±0.4
20
300
80
1200
5
5/16
7.9
±0.4
35/64
14
±0.5
20
300
80
1200
6
3/8
9.5
±0.4
5/8
16
±0.5
20
300
80
1200
7
15/32
12
±0.4
3/4
19
±0.5
20
300
80
1200
8
1/2
12.7
±0.5
25/32
20
±0.6
20
300
80
1200
9
5/8
16
±0.5
61/64
24
±0.6
10
150
40
600
10
3/4
19
±0.6
1-9/64
28.8
±0.8
10
150
40
600
11
1
25.4
±0.8
1-3/8
35
±1
10
150
40
600
Packing:

      1.Every 20/25/50/100 meters a roll.

      2.According to customer requirements.

Logistics:

Shipping and Air transport

Certificate:

     ISO/TS 16949:2009.

     SGS

     CE

     RoHS.

Trade Shows:

        Automechanika Shanghai

         AAPEX Show

         Automechanika  Frankfurt

        Kentucky Exposition Center

 

Our Services

1.   OEM Manufacturing 

2. Accept sample order 

3. We will reply you for your inquiry in 24 hours.

4. After sending, we will track the products for you once every two days, until you get the products. When you got the goods, test them, and  give me a feedback.If you have any questions about the problem, contact with us, we will offer the solve way for you.

More information visit :

www.hengtegu.com

http://hengtegu.en.alibaba.com 

http://auto-rubber-hose.com

Contact Us:

        Tel:  +86-0574-62056986

          +86-0574-62056985

 

Most kinds of plastics could be processed by plastic pyrolysis machines.

the main plastics will be PP PE with high oil output

PVC or PET is not suitable for pyrolysis machines

there will be Cl generated from its process

when met with water, there will be HCL,

it is harmful to reactor and all the whole plastic pyrolysis system.




the main process is that by heating the reactor directly, plastics will be pyrolysised into oil gas;

condensers or cooling pipes will cool the gas down into liquid oil with the help of recycling water;

then the rest gas which could not be cooled down into liquid oil will be recycled into reactor heating system; after oil gas coming out completely, stop heating the reactor, and cool down reactor below 70 degrees; then can open the door and discharge carbon black automatically...

there are models with capacities from 5tons to 20tons per batch

LN-2200-6000 capacity of 5-6ton

LN-2200-6600 capacity of 7-8ton

LN-2200-8000 capacity of 9-10ton

LN-2600-6600 capacity of 10-12ton

LN-2600-8000 capacity of 12-14ton

LN-2800-6000 capacity of 10-12ton

LN-2800-6600 capacity of 12-14ton

LN-2800-8000 capacity of 15-20ton

if cut into smaller pieces, it could process more.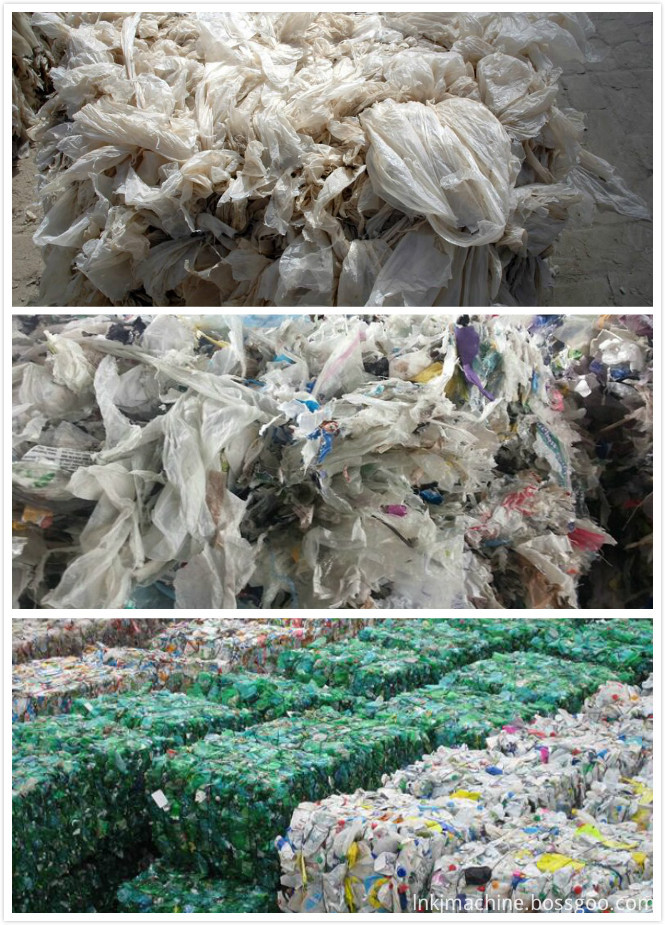 the whole process includes feeding plastics into pyrolysis reactor;

then heating the reactor and oil gas coming out for some time;

cool down the reactor; at last open the door and discharge the carbon blacks...




Waste Plastic Pyrolysis Machine

Waste Plastic Pyrolysis Machine,Plastic Pyrolysis Machine,Plastics Pyrolysis Equipment,Scrap Plastic Pyrolysis Machine

Henan Lanning Technology Co., Ltd , http://www.lanningrecycling.com