Model NO.: ht1828

Surface Handling: Plastic

Certification: ISO

Solid Wheel: 10*3.5"

Surface: Powder-Coated

Trademark: juxinyuan

Transport Package: Bulk/Plastic Bag

Origin: Yinzhu, China

HS Code: 87168000

Qingdao Juxinyuan metal Manufacturing co., LTD. Is located in the west coast of Qingdao Lingang Industrial Park, the company was founded in 2003, "forge ahead, cooperation a win-win" is our company's business philosophy. After 10 years of development, the company production capacity growing, growing product variety, can not only ensure the supply of customers orders for large quantities, but also for many varieties, small batch customers professional production.

Our company specializing in the production of bird cage,Wheel Barrow, Goods shelves,  Hand Trolley,PU foam wheel, rubber inflatable wheels, solid rubber wheel,etc. The company has scientific management system, advanced production and testing equipment. Products have been exported to North America, South America, Europe, Africa, the Middle East, southeast Asia and so on more than 30 countries and regions, enjoy a high reputation in the world. We will provide quality products and service, seek development with friends both home and abroad.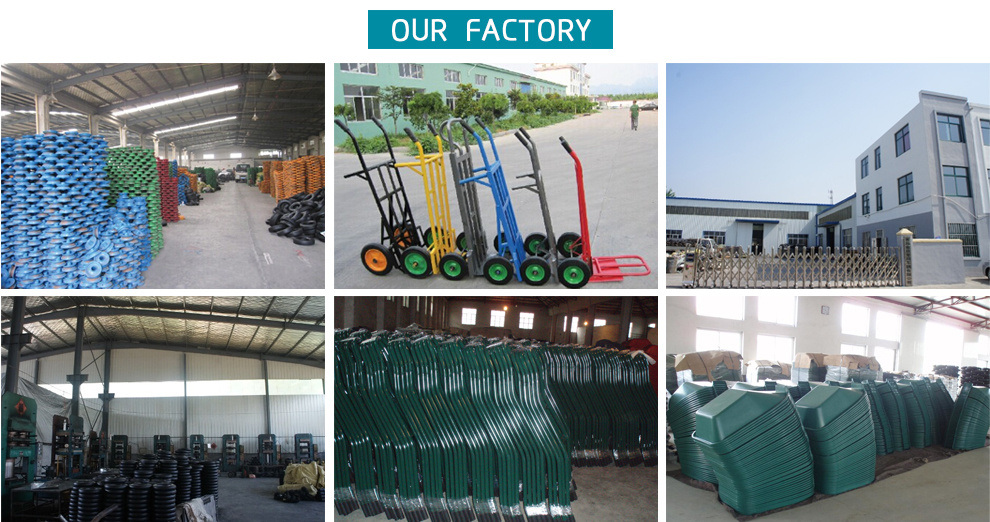 model 
capacity
net weight
solid tyre
pneumatic tyre
body size
toe plate 
HT1109
30
4.8
6"*1.4"
 
1070*395*498
325
HT2002
80
7.5
8"*1.75"
 
1050*425*380
200
HT2003
150
9.2
8"*1.75"
 
1368*422*390
200
HT2004
150
10.5
8"*2"
 
1180*470*435
220
HT2005
120
8.3
8"*1.75"
 
1118*418*366
178
HT2006
80
7
8"*1.75"
 
1000*460*355
180
HT2007
80
7.3
8"*1.75"
 
1000*456*362
180
HT2009
100
8.8
8"*2"
 
1003*425*369
185
HT2011
160
11.2
6"*1.75"
 
1155*565*640
395
HT2012
200
10.5
 
10"*3.5"
1255*530*444
220
HT2013
200
10.5
 
10"*3.5"
1255*530*444
220
HT2014
200
11
 
10"*3.5"
1310*550*460
220
HT2015
200
11
 
10"*3.5"
1310*550*460
220
HT2017
200
12
 
10"*3.5"
1310*550*460
220
HT2020
200
11.5
 
10"*3.5"
1310*550*460
220
HT2021
250
13.65
 
10"*3.5"
1270*523*475
220
JT2022
200
10.25
 
10"*3.5"
1120*545*435
185
JT2023
150
10.7
 
10"*3.5"
1250*546*433
200
JT2024
200
12.5
 
10"*3.5"
1295*560*480
255
HT2026
200
11.5
 
10"*3.5"
1238*560*480
255
HT2027
200
11.3
 
10"*3.5"
1263*615*550
260
HT2028
180
10.8
 
10"*3.5"
1120*522*460
200
HT2029
150
13
 
10"*3.5"
1130*565*495
240
HT2033
200
15.5
10"*2.5"
 
1250*500*455
250
HT2034
200
15.5
10"*2.6"
10"*3.5"
1245*500*455
250
HT2037
250
15.55
 
 
1170*560*435
203
HT2040
200
11.3
10"*2.75"
 
1193*515*445
203
HT2042
200
15.2
 
10"*3.50-4
1220*620*580
345
HT2045
270
16.4
 
13"*4
1308*565*540
225
HT2046
180
11
 
10"*3.00-4
1170*495*510
234
HT2047
200
20
13"*3"
 
1150*555*615
330
HT2049
200
19.5
8"*2"
 
1180*505*700
485
HT2050
150
8.55
8"*1.75"
 
1120*455*380
180
HT2051
360
13
 
10"*3.50-4
1280*620*480
220
HT2053
260
19.2
10"*2.5"
 
1230*560*560
300
HT2053A
260
18
 
13*4.00-6
1225*645*665
300
HT2054
200
14.2
 
10*3.00-4
1196*605*475
210
HT2056
300
12.8
 
10*3.50-4
1310*530*465
220
HT2057
200
14.8
 
10*3.50-4
1295*615*900
230
HT2058
50
5
5.5"*1.5"
 
1150*450*485
300
HT2059
120
13.5
8"*2"
 
1200*500*430
203
HT2060
200
12.5
 
10*3.00-4
1200*595*670
425
 
 
 
 
 
 
 
HAND TROLLEY
model 
capacity
net weight
solid tyre
pneumatic tyre
body size
toe plate 
HT2061
120
10
8"*2"
 
1120*470*375
330
HT2062
180
14
 
10*3.50-4
1270*530*445
215
HT2064
180
13.6
 
10*3.50-4
1240*532*452
215
HT2067
100
13.75
8"*1.75"
 
1400*435*397
205
HT2068
150
15.8
10"*2.5"
 
1114*517*448
200
HT2069
5250
11.65
 
10"*3.50-4
1310*545*460
227
HT2072
200
14.9
 
10"*3.50-4
1295*575*535
300
HT2073
200
11.4
8"*2.2"
 
1135*500*410
230
HT2075
200
10.1
 
10"*3.50-4
1125*545*420
255
HT2076
200
15.2
8"
 
1170*450*390
210
HT2077
200
19.7
 
10"*3.50-4
1190*575*470
230
HT2078
210
12
 
10"*3.50-4
1115*700*400
122
HT2084
200
9
 
10"*3.50-4
1205*500*425
170
HT2086
200
11
 
10"*3.50-4
1140*475*515
290
HT2087
250
11.55
 
10"*3.50-4
1235*545*505
260
HT2091
150
14.6
10"
 
1160*510*485
220
HT2092
150
13.9
 
10"*3.50-4
1265*520*495
245
HT2093
120
939
 
10"*3.50-4
1175*470*500
238
HT2094
150
17.1
 
10"*3.50-4
1390*530*520
255
HT2096
120
11.3
 
10"*3.50-4
1140*540*560
225
HT2098
150
15.6
 
10"*3.50-4
1310*915*700
300
HT2100
120
11.5
8"*1.75"
 
1135*480*445
200
HT2101
90
6.8
6"*1.5"
 
1100*390*410
230
HT2102A
50
4.5
8"*1.5"
 
1020*495*480
300
HT2103
50
6.1
7"
 
1000*450*410
218
HT2104
50
6.1
 
8"*2.50-4
1010*480*400
212
HT2105
50
6
 
10*3.00-4
1170*470*475
210
HT2106
100
8
 
10*3.00-4
1170*480*490
210
HT2107
150
10.2
 
10"*3.50-4
1201*510*475
235
HT2109
150
10.3
 
10"*3.50-4
1286*505*955
230
HT2110
100
7.6
 
10"*3.50-4
1195*509*742
210
HT2121
100
6.2
 
10"*3.50-4
1140*485*485
210
HT2123
100
5.8
 
8"*2.50-4
1075*505*475
260
HY2124
120
8.4
 
8"*2.50-4
1400*520*470
210
HT2127
200
18
 
10"*3.00-4
1200*670*690
416
HT2130
250
16.6
6"
 
1135*495*655
252
HT4001
30
6
6"*1.25"
 
1004*403*310
150
HT4002
40
6.8
6"*1.25"
 
1004*403*310
150
HT4003
50
7.4
7.5"*1.2"
 
1130*445*340
140
HT4004
80
8.5
7.5"*1.2"
 
1150*470*355
153
 
 
 
 
 
 
 
HAND TROLLEY
model 
capacity
net weight
solid tyre
pneumatic tyre
body size
toe plate 
HT4005
150
10.4
 
8"*2.50-4
1310*535*370
190
HT4006
50
7.7
7.5"*1.2"
 
1190*445*340
140
HT4007
80
8.9
7.5"*1.2"
 
1180*470*355
153
HT4008
80
10
8"*1.75"
 
1180*470*375
153
HT4009
120
13.5
8"*1.75"
 
1458*497*410
225
HT4012
80
8.8
7.5"*1.5"
 
1180*470*375
153
HT4013
200
16.6
 
10"*3.50-4
610*610*450
210
HT4014
250
13.45
 
10"*3.50-4
1450*550*460
180
HT4015
250
16.6
 
10"*3.50-4
1610*595*445
205
HT4016
200
18.2
10"*2.5'
 
1688*505*418
225
HT4018
200
15.3
 
10"*3.50-4
1435*550*485
230
HT4021
200
17.8
 
10"*3.50-4
1275*560*500
230
HT4023
250
18.5
 
10"*3.00-4
1245*620*545
300
HT4024
150
15
 
10"*3.50-4
1110*540*460
190
HT4101
120
20.2
 
10"*3.50-4
1370*510*480
185
HT4102
100
10.25
 
10"*3.50-4
1200*460*520
230
HT4103
80
6
6"*2"
 
1150*450*350
140
HT0101
120
15.5
6.5"*1.75"
 
1160*605*795
395
HT0102
120
19.6
6.5"*1.75"
 
1300*517*595
230
HT0103
200
21
6"*1.5"
 
1510*585*320
125
HT0105
200
20
8"*2.5"
 
1510*585*325
125
HT0106
150
12.4
8"
 
1510*610*520
125
HT0109
200
16.5
6"
 
1520*605*290
125
HT0112
250
22
6"
 
1532*613*295
125
HT2001
100
6.8
 
8"*2.5"
990*535*375
180
Our services:

1.

pre-sale services

Act as a good adviser and assistant of client enable them to get rich and generous returns on their investments.

1)select equipment model

2)design and manufacture products according to customers' special requestions.

3)train technical personnal for clients.

 

2.

services during the sale

 

1)Recheck and accept products ahead of delivery

2)Help clients to draft solving plans

 

3.

after-sale services

 

1)provide considerate services to minimize client's worries.

 

2)Help client to solve the assembly questions

 

3)take responsibility if any technical problems.

Feel free to contact us if any requirement:

Qingdao Juxinyuan metal Manufacturing co., LTD

 

Tel:0086 532 85197879