Model NO.: 40L oxygen cylinder

Condition: New

Outer Diameter: 219mm/232mm Oxygen Cylinder

Volume: 40L/47L/50L Steel Oxygen Cylinder

Water Capacity: 40L/47L/50L Steel Oxygen Cylinder

Working Pressure: 150bar/200bar Oxygen Cylinder

Test Pressure: 250bar/300bar Oxygen Cylinder

Length Without Valve: 1305mm/1430mm Oxygen Cylinder

Weight Without Valve: 48kg/52kg Oxygen Cylinder

Wall Thickness: 5.7mm/5.3mm Oxygen Cylinder

Standard: ISO9809-3/ISO9809-1 Standard

Valve: as Customer Required

Trademark: BEYIWOD

Transport Package: Shipping by Sea, Packed with Carton

Specification: medical oxygen cylinder

Origin: Shanghai

HS Code: 7311009000

Model NO.: 40L oxygen cylinder

Condition: New

Outer Diameter: 219mm/232mm Oxygen Cylinder

Volume: 40L/47L/50L Steel Oxygen Cylinder

Water Capacity: 40L/47L/50L Steel Oxygen Cylinder

Working Pressure: 150bar/200bar Oxygen Cylinder

Test Pressure: 250bar/300bar Oxygen Cylinder

Length Without Valve: 1305mm/1430mm Oxygen Cylinder

Weight Without Valve: 48kg/52kg Oxygen Cylinder

Wall Thickness: 5.7mm/5.3mm Oxygen Cylinder

Standard: ISO9809-3/ISO9809-1 Standard

Valve: as Customer Required

Trademark: BEYIWOD

Transport Package: Shipping by Sea, Packed with Carton

Specification: medical oxygen cylinder

Origin: Shanghai

HS Code: 7311009000

Factory introduction

We are professional manufacturer of china medical oxygen cylinder, such as steel cylinder, aluminum cylinder, glass fiber cylinder and storage tanks. Also all kinds of cylinder accessories, including valve, regulator, gas filling hose, high purity gas, gas mixture and so on.

EQUIPMENT:We have our own full set of production line.all products produce by ourself.

TECHNOLOGY:all our china medical oxygen cylinder could meet standard

Steel cylinders:ISO9809-3/ISO9809-1/EN1964/EN-ISO9809/CE/TPED

Aluminum cylinders:ISO7866/DOT3AL/84/526/EEC/CE/TPED

SCALE:we have independent manufacturering shop,storehouse,stock room,office buliding.

Products description
 
40L/47L/50L big size steel cylinder for oxygen/co2/nitrogen/argon/helium gas
water capacity
40L
Material
37Mn/34CrMo4
Working pressure
150bar/200bar(15Mpa/20Mpa)
Height without valve&cap
1350mm
Test pressure
250bar/300bar(25Mpa/30Mpa)
Weight without vavle&cap
48KG
Gas capacity
6cbm /8cbm oxygen /nitrogen/ argon/helium gas;
or
26kg/30kg co2 /nitrogen oxide gas

 
Standard
ISO9809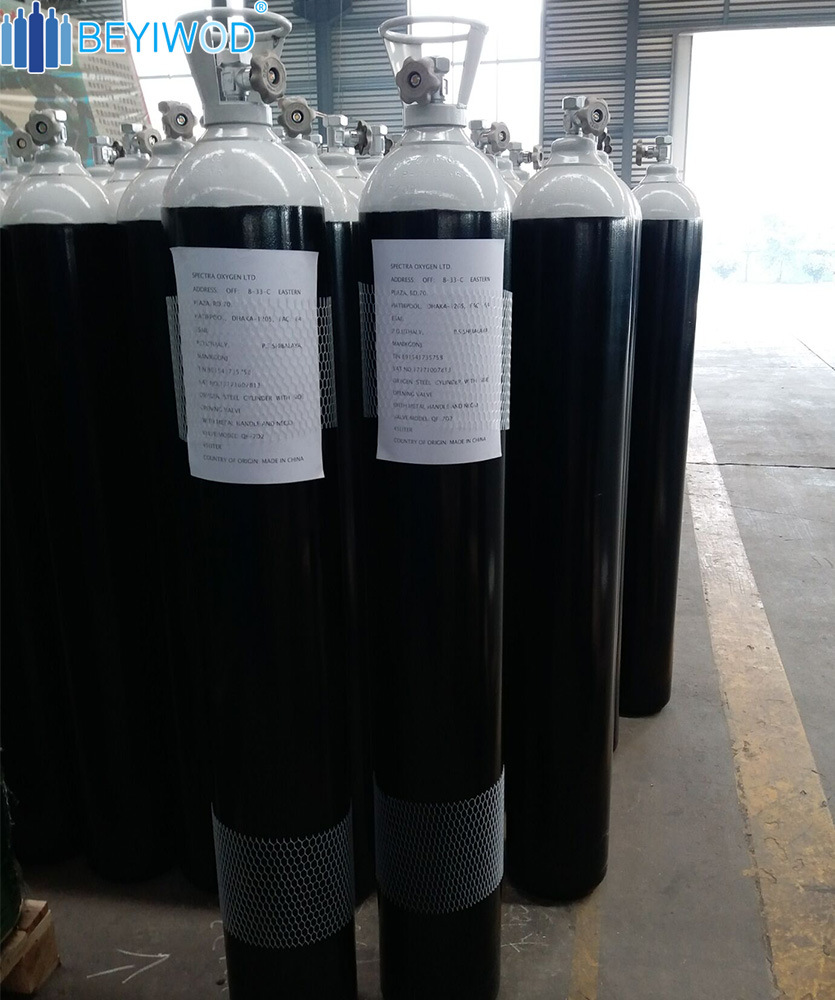 40L steel oxygen cylinder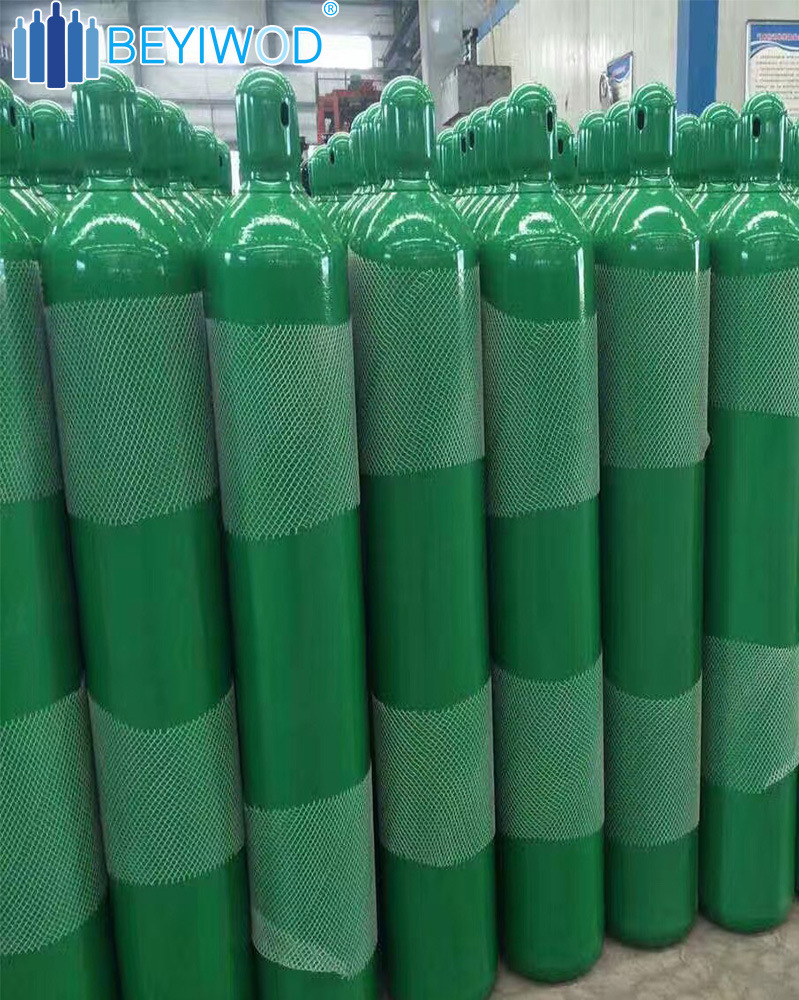 40L steel oxygen cylinder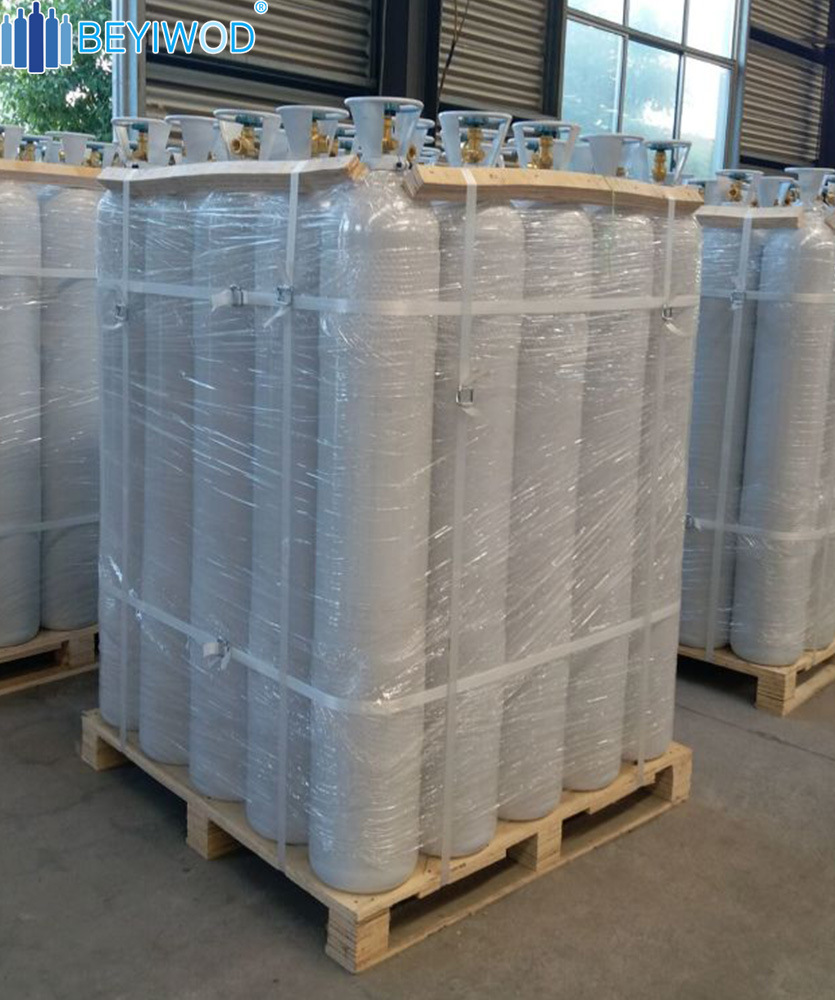 black color steel xylinder fro oxygen.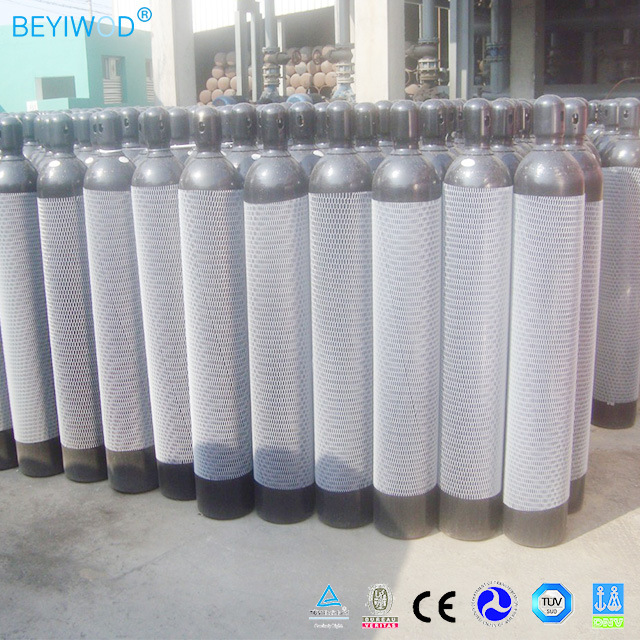 ISO9809-3 Standard seamless steel cylinder
Serial No.
Type
Nominal working Pressure(bar)
Water test pressure(bar)
Volume
(L)
Nominal
Outer Dia.
(mm)
Length(mm)
Weight (kg)
1
BENE108-2-15
150
250
2
108
315
4
2
BENE108-3-15
150
250
3
108
480
5.7
3
BENE140-4-15
150
250
4
140
365
6.6
4
BENE108-5-15
150
250
5
108
700
7.5
5
BENE140-5-15
150
250
5
140
440
7.7
6
BENE140-6.3-15
150
250
6.3
140
540
9.4
7
BENE140-7-15
150
250
7
140
600
10.8
8
BENE140-8-15
150
250
8
140
685
11.0
9
BENE140-9-15
150
250
9
140
745
11.5
10
BENE140-10-15
150
250
10
140
825
13.4
11
BENE159-8-15
150
250
8
159
545
11
12
BENE159-10-15
150
250
10
159
675
13
13
BENE159-13.4-15
150
250
13.4
159
890
21
14
BENE180-20-15
150
250
20
180
985
25
15
BENE219-20-15
150
250
20
219
730
27
16
BENE219-40-15
150
250
40
 219
1310
 48
17
BENE232-50-15
150
250
50
232
1480
60
18
BENE267-68-15
150
250
68
267
1500
74
19
BENE279-80-15
150
250
80
279
1735
91
Our service

OUR HIGH QUALITY PRODUCTS, GOOD PRICE AND BEST SERVICE MAKE YOU TO WIN THE MARKET!

1.OEM Accepted of medical oxygen cylinder
A: We can carve simple LOGO for you on cylinder shoulder by free.
B: We can write shipping mark on outer packing carton according to your requirement.
C: We can spray simple English letters, for example "OXYGEN" ,"O2 Medical", and make water proof PVC label or sticker, colorful box, barcode ...etc.. according to your design.

2. Professional service of medical oxygen cylinder

A: 24 hours on-line and our working time is 9:00~23:00 every day.
B:Â Quick reply your email and answer your questions.
C: Kind communication, Careful attitude,Good patience,Professional product knowledge

3. Good after-sales service 

A:If there is any problem with the use of our steel medical oxygen cylinder within two years, we can replace it for you a new product.

B:We can book the cabin for the customer.

C:We also give some good advice to customers about there market.

D:Any questions about the high pressure steel cylinder, We will contact the technical department in time to deal with the problem.


4. We can do CO, FORM R, FORM E, CI...to help you save tax.


FAQ

Q:Are you the manufacturer or trading company?

A: We are manufacturer.
 

Q:What's your MOQ of medical oxygen cylinder?

A:Â Normally, our MOQ is 1*20GP container.As for first cooperate,we agree with less quantity.
 

Q:What's your delivery time of medical oxygen cylinder ?

A: About 30 days after we recieved advance payment
 

Q:What's your price of medical oxygen cylinder?

A:Our final price will judge by your first purchase quantity. Of course, for the first deal, we will give you some extra discounts.
 

Q:Can you provide a medical oxygen cylinder sample? 

A:Yes, we can. We just need confirm the specification about the sample oxygen cylinder.

COMPANY INFORMATION
Located in Shanghai, China, Shanghai Bene High Pressure Container Co., Ltd is a professional manufacturer of high quality of gas cylinder, such as steel cylinder, aluminum cylinder, glass fiber cylinder and storage tanks. Also all kinds of cylinder accessories. We have more than 20 years of producing and exporting experience in the field of medical, industry, beverage, aviation and diving. And we have a good reputation in these fields. Our products have won praise from customers worldwide. They have been exported to USA, Germany, UK, Swede, Poland, Australia, New Zealand, Russia, UAE, Saudi Arabia, Iran, Pakistan, Bangladesh, Egypt, Japan, Singapore, Chile, Peru, Brazil and etc.

CERTIFICATIONÂ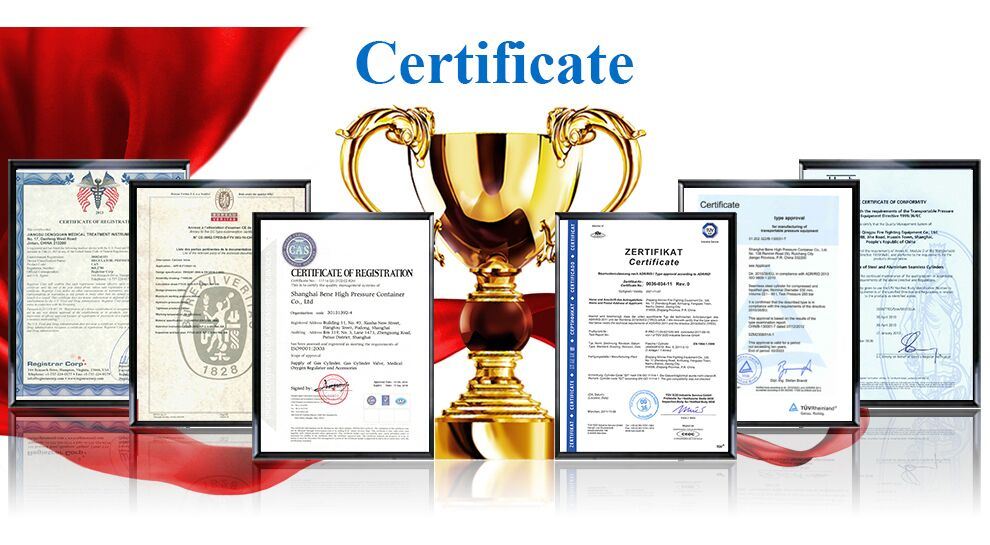 Contact us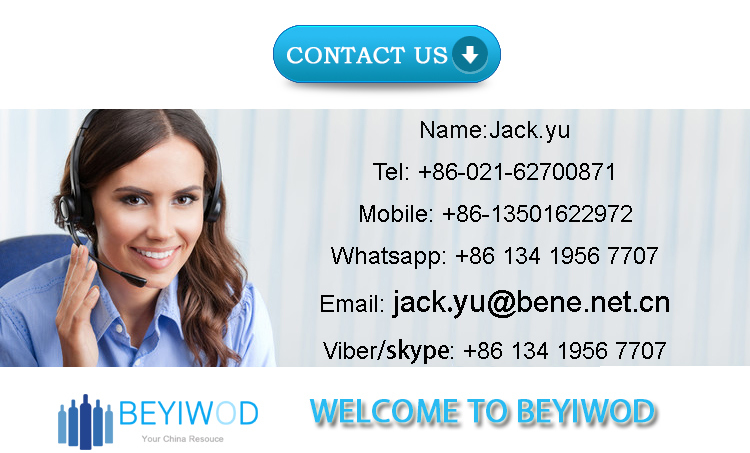 Factory introduction

We are professional manufacturer of china medical oxygen cylinder, such as steel cylinder, aluminum cylinder, glass fiber cylinder and storage tanks. Also all kinds of cylinder accessories, including valve, regulator, gas filling hose, high purity gas, gas mixture and so on.

EQUIPMENT:We have our own full set of production line.all products produce by ourself.

TECHNOLOGY:all our china medical oxygen cylinder could meet standard

Steel cylinders:ISO9809-3/ISO9809-1/EN1964/EN-ISO9809/CE/TPED

Aluminum cylinders:ISO7866/DOT3AL/84/526/EEC/CE/TPED

SCALE:we have independent manufacturering shop,storehouse,stock room,office buliding.

Products description
 
40L/47L/50L big size steel cylinder for oxygen/co2/nitrogen/argon/helium gas
water capacity
40L
Material
37Mn/34CrMo4
Working pressure
150bar/200bar(15Mpa/20Mpa)
Height without valve&cap
1350mm
Test pressure
250bar/300bar(25Mpa/30Mpa)
Weight without vavle&cap
48KG
Gas capacity
6cbm /8cbm oxygen /nitrogen/ argon/helium gas;
or
26kg/30kg co2 /nitrogen oxide gas

 
Standard
ISO9809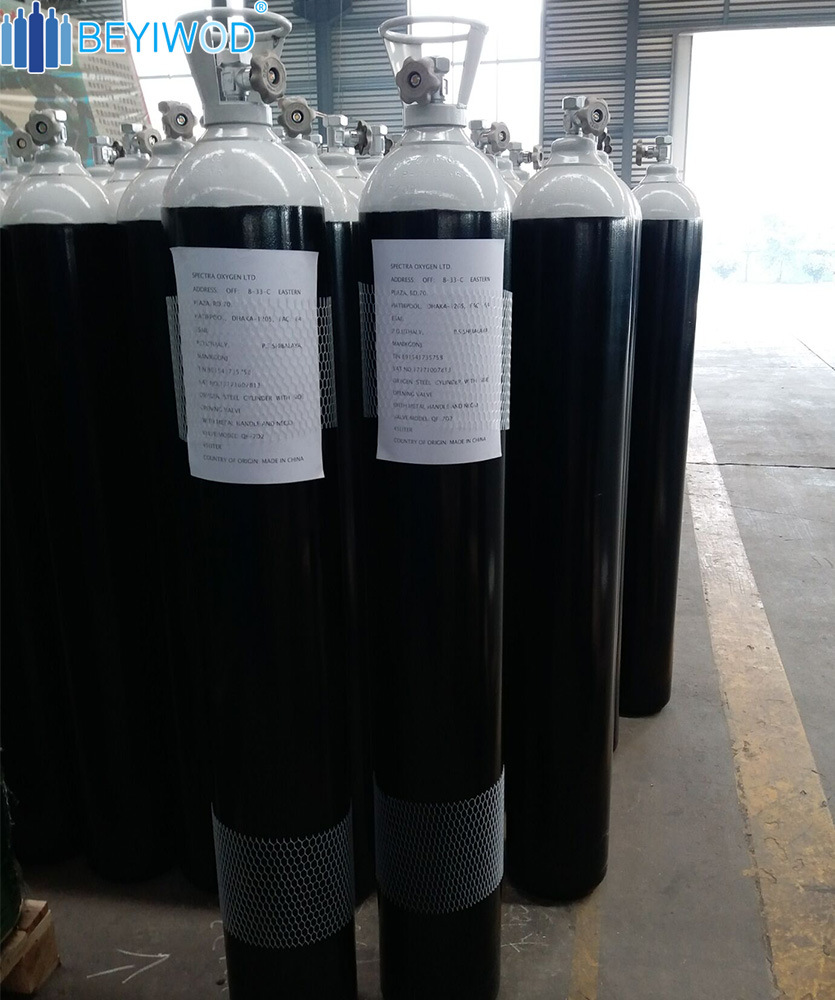 40L steel oxygen cylinder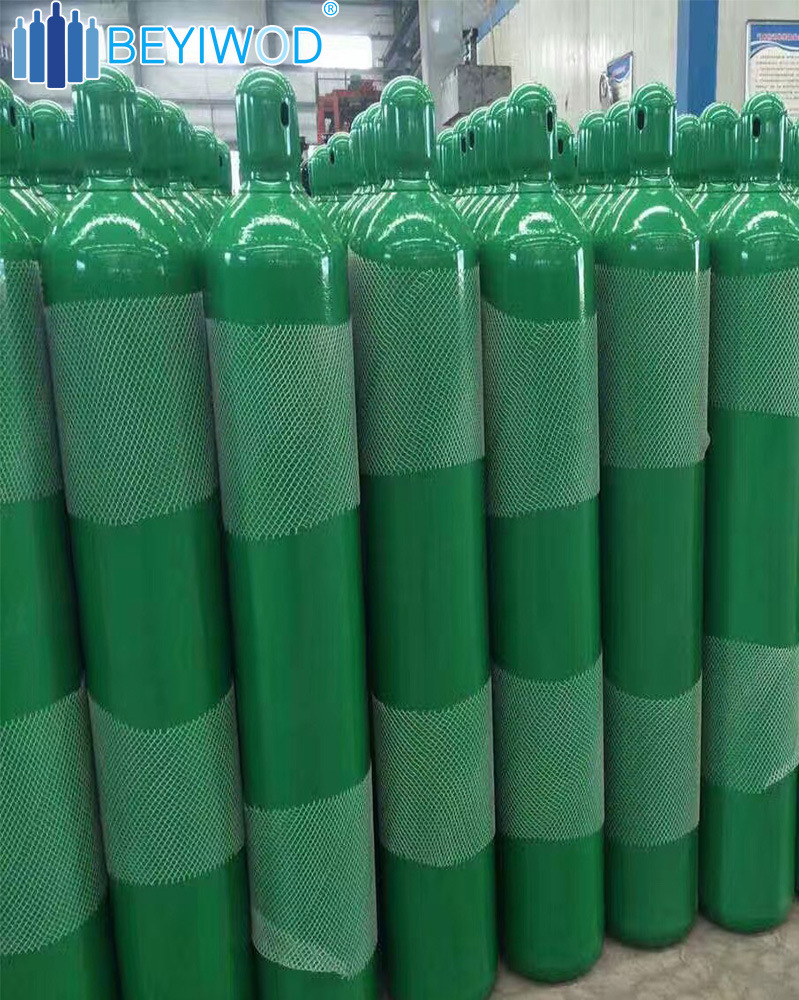 40L steel oxygen cylinder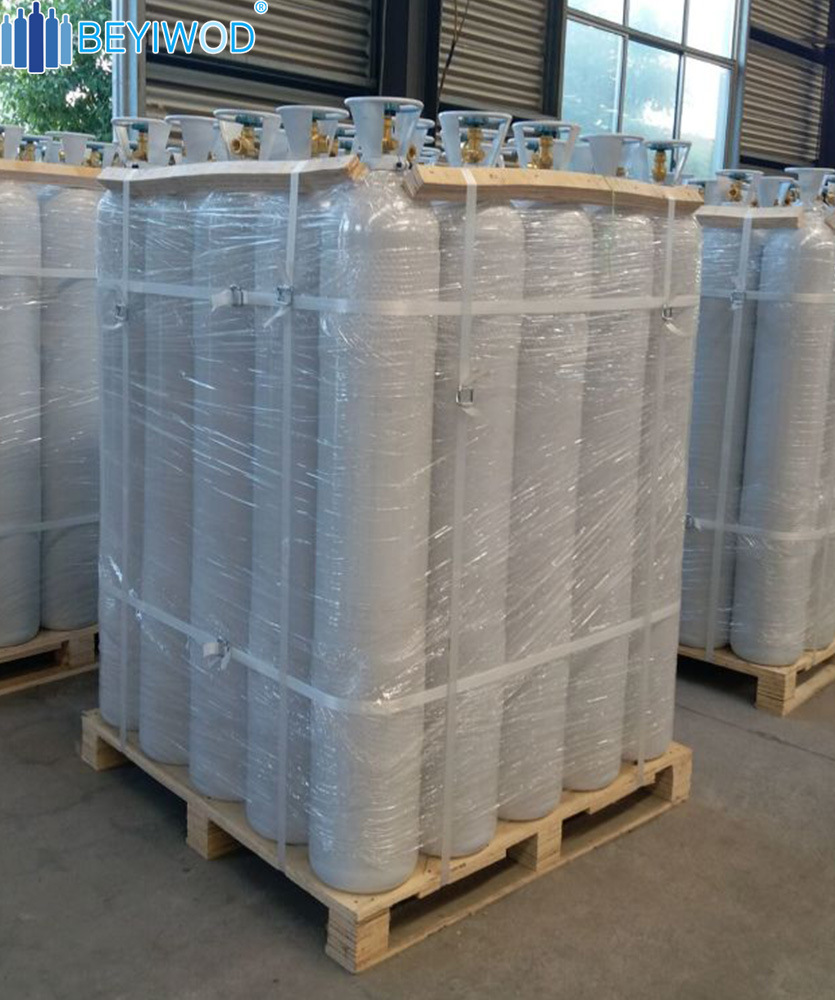 black color steel xylinder fro oxygen.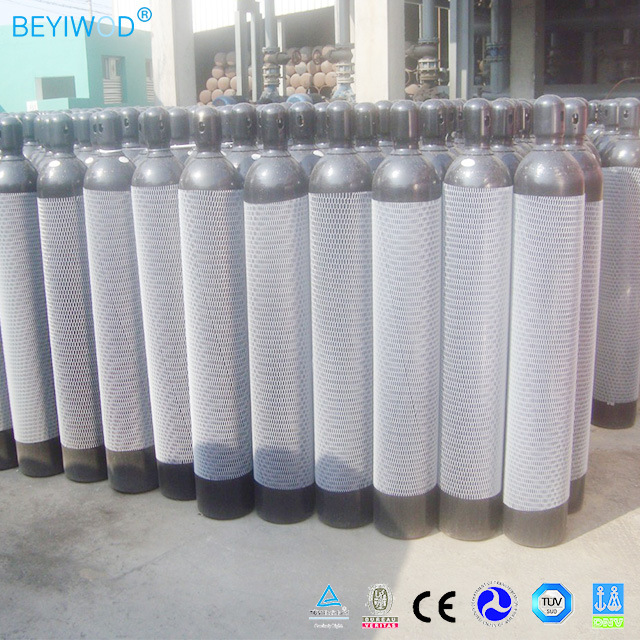 ISO9809-3 Standard seamless steel cylinder
Serial No.
Type
Nominal working Pressure(bar)
Water test pressure(bar)
Volume
(L)
Nominal
Outer Dia.
(mm)
Length(mm)
Weight (kg)
1
BENE108-2-15
150
250
2
108
315
4
2
BENE108-3-15
150
250
3
108
480
5.7
3
BENE140-4-15
150
250
4
140
365
6.6
4
BENE108-5-15
150
250
5
108
700
7.5
5
BENE140-5-15
150
250
5
140
440
7.7
6
Veneer Peeling Machine

WEIHAI BSY INDUSTRY CO.,LTD. , https://www.weihaibsy.com