"Which years are quiet, just someone is carrying it for you."

Recently, this sentence has aroused the resonance of many people, especially after watching the overheated "Fire Hero", this film based on the "Dalian 7.16 oil explosion fire" has made many people have more "heroes". The figurative understanding also touched the blood and tears of the retrograde fire.

In fact, in one fire safety rescue after another, not only the professional and brave fire heroes, but also reliable and durable fire fighting equipment are needed. As a power supplier for fire-fighting vehicles, Yuchai is deeply touched. It is understood that about one hundred Yuchai engine supporting fire special vehicles are put into the whole country every year, which is used for the first line of fire rescue. Recently, the high-powered YC6K entered the fire service supply system for the first time in China, which opened a new page of Yuchai and the fire hero.

"As early as 2014, Yuchai YC6K was assembled on a fire truck in Germany. This time Yuchai YC6K entered China's fire protection system for the first time. The model is YC6K460-50, which meets the national emission standards." Yuchai Pang Xiao, director of the Sichuan office of the sales company, said. Previously, such high-powered fire-fighting vehicles were more inclined to equip imported engines in power selection. The cooperation with Yuchai fully demonstrated the recognition of Yuchai's quality and the brand influence of the national brand.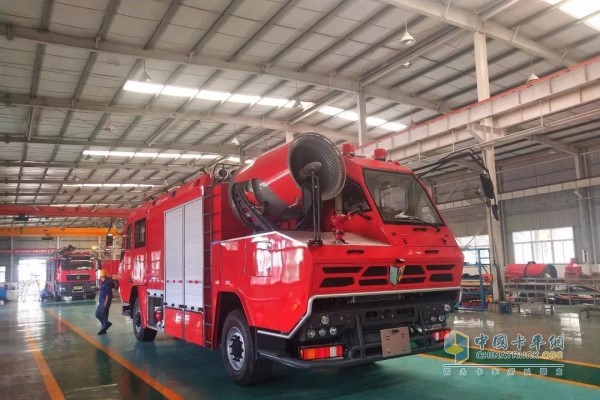 Fire truck with Yuchai YC6K engine

The YC6K series engine is a star model of Yuchai. It is supported by the internationally renowned engine design company AVL. It is developed synchronously with the new generation heavy-duty engine of the international brand heavy truck company. It has more than 40 technical invention patents and more than 100 application patents. The high-end technology of heavy-duty engines such as camshaft toping and roller rocker arm, the minimum fuel consumption and rated fuel consumption are 5%~8% lower than the current international advanced level engine. With strong power performance, excellent stability and reliability, this model is sold well in many domestic market segments, and its market reputation and possession are particularly impressive.

"YC6K is comparable to imported high-end models in terms of noise reduction design, power performance, attendance and reliability. The better cost performance and timely and efficient after-sales service have become an important reason for Yuchai to exceed the imported brands for customer recognition. At present, Yuchai's products developed on the K platform include YCK05, YCK08, YCK09, YCK11, 6K13 and YCK15. The diesel engine covers 190~650 horsepower and the gas engine covers 185~560 horsepower. According to Pang Xiao, the YC6K engine provides the service guarantee for the market without mileage guarantee for three years. In addition, the regular return visit inspection, regular maintenance training, and on-site service and other humanized service policies are adhered to by Yuchai's multi-service fire protection system, and the most sincere service is the most solid backing for the fire scene.

The fire is ruthless, and there is love in the world. Yuchai insists on providing the best power products to users, passing on more positive social energy, so that every fire hero can be fearless retrograde and return safely!

Reading volume: Source: Yuchai Author: Yue Feng

MeCan Wastewater Treatment Plant is strictly implement the international environmental protection regulations to ensure that the water output indicators meet international and local pollutant discharge standards, convenient operation and management, low investment and low operating costs. it is can be customized.

Wastewater Treatment Plant

Water Treatment,Effluent Treatment Plant,Wastewater Treatment Plant,Water Treatment Plant

Guangzhou MeCan Medical Limited , https://www.medical-waste-incinerator.com