March 9, 2017, Shanghai - JLG, a global leader in aerial work platforms and telehandlers for the Osseco Group, celebrated the 20th anniversary of its hybrid technology launch at 2017 CONEXPO Released a new self-propelled H800AJ 80' boom aerial work platform. With the release of this product, JLG unified the original M series arm and scissors high work platform and hybrid product line into the H series to more precisely define the hybrid model. The remodeling of the JLG®H series will be completed in the summer of 2017. This series of aerial work platforms not only has a new system nomenclature, but also has a new, easy-to-identify "environmental" label. The integrated H series will become one of the most comprehensive hybrid product lines in the aerial work platform industry.

In 1997, JLG developed the first patented hybrid technology aerial work platform. "Since then, the company has begun planning and purposeful development of hybrid technology," said Paul Kreutzwiser, Global Product Director of JLG Aerial Work Platforms. "Our engineers carefully consider the application scenarios, application areas and equipment of specific aerial work platforms. The power needed; then choose the best hybrid technology solution for it. We never use a single product for every application."

The history of JLG's hybrid technology can be traced back to 20 years ago. After the introduction of the first hybrid aerial work platform in 1997, JLG continued to develop this technology and applied it to numerous product lines, including four-wheel drive assisted aerial work platforms, hybrid scissor lifts, and four-wheel drive electric hybrid arms. Aerial work platform. At CONEXPO in 2000, JLG has exhibited a fuel cell type boom-type aerial work platform concept machine.

At the CONEXPO show, JLG demonstrated two self-propelled hybrid high-altitude platforms, the H800AJ and H600AJ concept machines, demonstrating the mobility and scalability of the hybrid technology used in a range of JLG products. The operator can manipulate the H800AJ with great ease. In addition to the power unit, the H800AJ is almost identical to the JLG hot product 800AJ, and the use of general-purpose parts facilitates future operation and maintenance. The H800AJ will be launched on the market by the end of 2017. The aerial work platform is suitable for indoor or outdoor applications and has similar performance of diesel powered equipment with lower emissions or even zero emissions, low fuel consumption and low noise.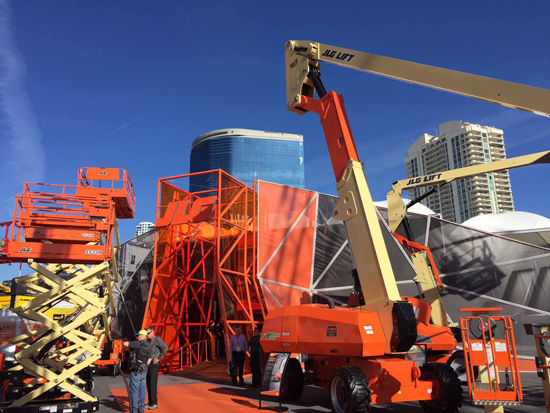 JLG's newly released hybrid aerial work platform unveiled at CONEXPO


"These self-propelled hybrid aerial work platforms are just the beginning," said Kreutzwiser. "As the aerial work platform industry demands more environmentally friendly products, as hybrid innovators and promoters, we can We are proud of the use of new technology in different application areas, different product lines, and different forms of fuel for aerial work platforms."


"On the occasion of JLG's 20th anniversary of the development of hybrid technology, we will continue to seek breakthroughs to further advance the development of JLG products in terms of sustainability and environmental protection," said Alan Loux, JLG vice president of global marketing. "These efforts are inseparable from the entire company. The Group's current sustainable development initiatives, which also emphasize our commitment to provide a greener and more environmentally friendly solution for the work-at-work platform industry, without sacrificing productivity and performance, for today's laborers and the future. The next generation provides a safer high altitude environment."

For more information on JLG H Series Hybrid Technology products, please visit CONEXPO G3946 Booth. (This article comes from Jerger)

Related news: The Jerger Exhibition

Aluminum Casting Parts can use different casting process to do,such as aluminium sand casting process and aluminium Die Casting process.

Aluminium die casting process is a metal casting process that is characterized by forcing molten metal under high pressure into a mold cavity. Our Aluminum Die Casting Parts have the advantages:

- Lightweight, high precision dimensional stability for complex shapes and thin walls

- good corrosion resistance; good mechanical properties

- high thermal and electrical conductivity

- retains strength at high temperatures

With plentiful experience and skillful technique, we have the full capacity to produce the best

Zinc Die Casting

and

Aluminum Die Casting

as per our customers drawing or sample and we enjoy a good reputation in domestic and overseas market.

Aluminum Casting Parts

Aluminum Casting Parts,Aluminum Die Casting Parts,Aluminum Alloy Casting Parts,Precision Aluminum Casting Part

Ningbo City Yinzhou Ruican Machinery Co.,Ltd , https://www.kstcasting.com